Otaku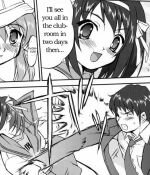 July 27, 2009
I am sure all current viewers of this season's The Melancholy of Haruhi Suzumiya are tired of Endless Eight's time loop. I mean… after the last week's episode (number seven), it was the SIXTH time we've seen the events unfold for the SOS Brigade's final two weeks of summer. SIX TIMES! Sure, I thought the [...]
Haruhi Suzumiya: How Endless Eight Should End
Here are pictures from this year's Otakon! There were a TON of people there at the convention this year. Over 25,000 people this year according to ANN. As always, there were a lot of cosplayers too!.
Friend: Oooh quest givers from WoW!
Me: ???
Friend: Over there to the left! See them?!

Going to be gone this weekend. I will be nerding it up in Baltimore, MD again this year for good 'ol Otakon. Anime, Manga, Games, and a lot of cosplaying. Otakon, here I come!
I will also remember to post pictures from this year's Otakon in a more timely manner. Not like last year's pictures where I just happen to finally get around to posting them… now.

Yay the 2nd season of one of my favorite Anime Series is now being aired! Also like the first season, the episodes will air in a different order then intended. At first I thought it was kind of weird how they did this, but when you rewatch the series again in the correct order, you [...]
More in this category: