Haruhi Suzumiya: How Endless Eight Should End
I am sure all current viewers of this season's The Melancholy of Haruhi Suzumiya are tired of Endless Eight's time loop. I mean… after the last week's episode (number seven), it was the SIXTH time we've seen the events unfold for the SOS Brigade's final two weeks of summer. SIX TIMES! Sure, I thought the concept was cool at first- but SIX TIMES?!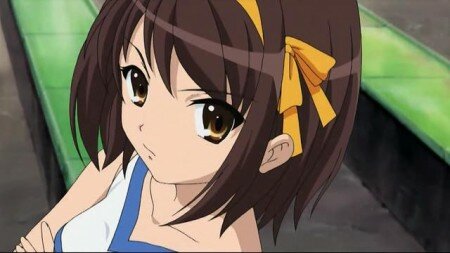 I'm not sure I can take anymore of it. Maybe if they showed bigger changes between each episode to show the audience that they're actually putting some effort into the show. Maybe focus on one of the events for each episode, or even show the events from each person's point of view.
Here is my version of how they solve this Endless Eight time loop. It is read in the regular Manga format, top-right to bottom-left. Enjoy!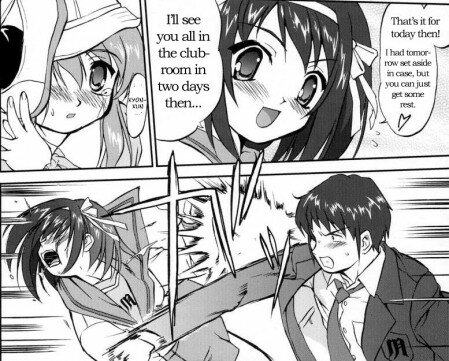 C-c-c-c-c-c-combo Breaker!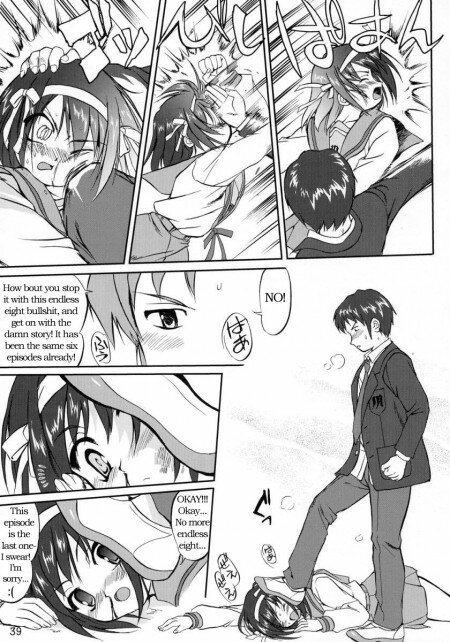 Kyon Wins! Endless Eight problem solved!
I knew we could count on Kyon! Unless Haruhi wants to go through that massive beating 15,500 more times, the time loop would be over.
Thanks to "M" for showing me the picture of Haruhi getting punched (which sparked the idea). I did some research, found the rest of manga frames (you don't want to know where it's from), and edited the speech bubbles.
Oh yea! If you want to know what really happens at the end of the Endless Eight arc, you can read that chapter of the light novel HERE. It is like the 3rd Chapter of the 5th Volume of the series.
Comments
Martian said:

Brian said:

Very Upset said:

FunnieDoug said:

TomToms said:

Anon said:

Tuna (Author) said:

Brian said:

Very Happy said:

Jojje said:

Brian said:

William said:

Brian said:

William said:

a weird guy admittedly said:

xapyxi said:

joe said:

Anonomous female poster stubbornly said:

Don't know what to say said:

Nipples said:

said:

hope said:

WeAreAnonymous said: