Frost Mage PvP: 101
Welcome to introductory class to Frost Mage PvP! This will cover the very basics of what you need to know about PvPing as a Frost Mage. I will making additional posts to cover the different aspects of PvP. You can't learn it all in one post!
I've gotten a few emails about PvPing, so this is my way of answering a few of those questions at the same time. Feel free to ask more questions, or if you want to add to anything I have, please feel free to do so.
Your Role as a Mage
As a Frost Mage, you have a lot of utility, and can do things many classes can't do, or won't do well. Playing a Mage isn't just about doing damage, although damage is one of our main roles. And we can also do more than just provide food and water!
Crowd Control: Also known as "CC", Mages have the ability to render an opponent useless for a short durations. It can be to make the opponent lose control of their character, keep an opponent from moving, or even preventing an opponent from using their abilities. And we have many ways to do it too!
Buffer: We also bring buffs which will help make ourselves and our teammates stronger. We help our teammates crit more often, take less magic damage, take more healing, or just have more mana.
Debuffer: We can also debuff our enemies to make them weaker. We can make the move and attack slower; take more critical strikes; or even receive less healing.
Tank: Yes, sometimes in PvP we are called on to just stay alive and keep the opponents occupied. When there are many players beating on you, you have many options to use to escape, and stay alive longer.
Frost Mage PvP Spec
You will need to know how to spec your talent trees. 20/0/51 is usually how most Frost Mages are spec'd, but "how" they spec each tree can be a little different.
The Arcane Tree is pretty much straight forward. I've seen some players who opted to sacrifice Mana efficiency from Arcane Concentration for more defense from Arcane Fortitude. It will depend on your play style, gear, and team composition. Every other talent is pretty much a "must get".
The Frost Tree gets a bit more complicated since there are many good talents to get, and not enough talent points. I've seen many Mages with different little variations in their Frost Tree. Again it is mostly preference and situational depending on your team composition.
Improved Blizzard: Mainly used for Battlegrounds, Improved Blizzard can be the nastiest movement debuff a Mage can do to a target. With all the right talents, your Blizzard can slow your target(s) to a crawling 30% movement speed, with each tick of Blizzard having a 15% chance to freeze too!
Frost Warding: A nice defensive talent with the utility of also returning you Mana too. It makes your Ice Armor stronger, and gives your Frost and Fire Wards a 30% chance to negate damage, turning that damage into Mana.
Cold as Ice: Some players have 1, 2, or no points at all invested into this talent. If you are used to long drawn out battles, you will probably be taking this talent. If you are used to matches being decided within the first 5 minutes, you might not bother with this talent.
Shattered Barrier: This is a nice talent which gives you addition protection by freezing anything around you whenever your Ice Barrier gets eaten through. The problem is, it shares the same Diminishing Return as Frostbite.
Arctic Winds: Another talent where some players will put some, none, or all points into the talent. It gives you an offensive and defensive boost at the same time. Some players don't think it is worth all 5 points however.
Enduring Winter: The "general consensus" is that one point into this talent is enough, and I agree with that.
Chilled to the Bone: Some players won't have all five points invested into this talent, and will use those extra points to put them into Shattered Barrier or Cold as Ice.
Major and Minor Glyphs
You can think of Glyphs like they are enchants, but for your spells! At level 80, you can have up to three Major Glyphs, and three Minor Glyphs.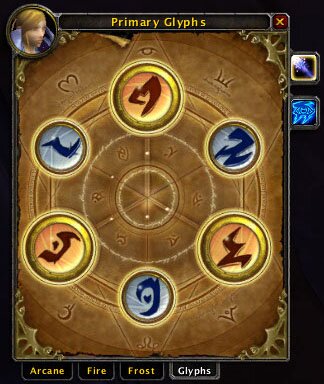 Minor Glyphs:
Out of all the minor glyphs available, these three are the only ones with a useful use for them. The two wards will have a small chance to reflect back spells, and you can use Slow Fall for buff protection without wasting reagents.
Major Glyphs:
These two glyphs you must have. The last glyph is open depending on your own preference. Here are some I've seen used:
This was just a quick basic overview of Frost Mage PvP. If you have any questions or like to add something, fee free to do so. For the next section, I will be talking about Resilience and Spell Penetration.
Continue to Next Section:
Frost Mage PvP: 102 – Spell Penetration and Resilience
Related Posts:
Trackbacks
 
Frost Mage PvP: 103 – Gearing for PvP – Featured | Spicytuna