Frost Mage PvE: Hydross the Unstable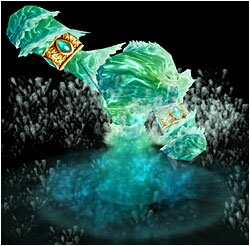 Hydross the Unstable is technically the first boss in the Serpentshrine Caverns (SSC). He seems to have lost his sanity as a result of being held prisoner by Lady Vashj. He is kept in check by the two beams in his prison. If he leaves them, he becomes poisoned, causing him great pain. Although being the first boss raids meet when entering the instance, the Lurker Below is an easier kill, and it's possible to sneak past Hydross. Therefore new raids usually try Hydross second.
He is immune to Frost half the time and Nature the other half. Better as Fire or Arcane, but still doable as Frost spec.
Boss Stats:
Hit Points – 3,400,000
Enrage Timer - 10 minutes
Abilities:
Mark of Hydross: Frost Phase only. Stacks up to 5 times, increasing frost damage received by 10, 25, 50, 100 and 250 percent.
Mark of Corruption: Nature Phase only. Stacks up to 5 times, increasing nature damage received by 10, 25, 50, 100 and 250 percent.
Water Tomb: Frost Phase only. Casts on a single target every 7 seconds. Stuns for 4 seconds and deals 4500 frost damage over 5 seconds. It also applies to all people within 8 yards of the original target, but it won't chain to secondary targets.
Vile Sludge: Nature Phase only. Casts every 15 seconds. Deals 500 damage each 3 seconds and reduces healing and damage done by 50%. Lasts 24 seconds.
Summon Adds: Every time he changes phases, he summons 4 adds. When he changes into his nature form, he summons 4 nature adds. When he changes into his frost form, he summons 4 frost adds. These adds have about 60k health.
Aggro Wipe: Every time Hydross changes phases, his aggro list completely wipes. However, all DoT's and debuffs will still remain.
Enrage: After 10 minutes Hydross will become untankable, even with Shield Wall. He continues casting Vile Sludge and Water Tomb, which will also kill in one shot anyone they hit.

Recommended Consumables:
Spell Damage food of your choice
This is an AoE heavy fight, and you will be chugging mana potions regardless of having a Shadow Priest or not. Going with Adepts since you will only be doing Frost damage half the time.
Frost Mage Overview:
Pet Friendly: Very Friendly
Cooldowns: Save Ice Block and Cold Snap to use on Water Tomb
Hydross does not target pets for Vile Sludge or Water Tomb, so your Water Elemental will be safe. You can just summon away and not worry about keeping your pet alive. Keep your Ice Block and Cold Snaps for Water Tomb since that does the most damage, especially when you have more than 3 stacks of the debuff. You could also use Ice Block to take off the Vile Sludge debuff towards the end if you still have it up, to get rid of the -50% damage debuff and do more damage.
During the fight, Hydross will put a debuff on the raid every 15 seconds. Mark of Hydross or Mark of Corruption, depending on the phase that he is in. When the debuff count gets too high (4 or 5), the tank will pull him through the beam, to make him switch phase, since the raid will not be able to survive too long and will be taking too much damage to heal through.
Whenever Hydross switches phases, he completely drops aggro, and spawns 4 adds. So there would be a call to stop all dots and DPS, so pay attention to that. Because if Hydross is pulled over the beam and switches phases, then someone pulls aggro and pulls him back through the beam, he will switch phases again, and you have to deal with double the adds. This usually results in a wipe.
The adds will be picked up by off-tanks, and will be AoE'd down. You will be spending a lot of mana AoE'ing, so use mana pots and mana gems early, and often. A good time to use Evocation is either during Frost Phase where you are only half as effective, but you run the risk of being interrupted by a Water Tomb, or at the beginning of Nature phase, where tank needs to build up threat again.
For Frost Phase: You will be doing your best impression of an Arcane Mage. Arcane Blast x 3, Arcane Missile x 1, Scorch x 1, repeat. Why Arcane rotation? Well if you are spell hit capped for Frost, and have at least 3 points into Arcane Focus, you'll also be hit capped for Arcane. Plus you would have an untalented 3.5 second Fireball if you use fire. When you have to AoE, Flamestrike + Arcane Explosion spam is all you have.
For Nature Phase: You will be saving all your big cooldowns for all Nature Phases. Pop your trinket, IV, and pet and Frostbolt away. When called to AoE, my favorite combo is: Flamestrike + Cone of Cold, Frost Nova, then Flamestrike + Cone of Cold again, then Arcane Explosion spam, using Frost Nova and Cone of Cold whenever they are up.
Here is a useful tip if you see aggro as a problem. If you are worried you might be pulling aggro, move across the beam to the side that Hydross is supposed to be. So if you ever pull aggro by accident, you won't pull him through the beams again and wipe the raid.
You must kill him before he hits the 10 minute enrage timer. At that point, he will start one-shotting players, and wipe the raid in about 15 – 20 seconds. AoE the adds, DPS Hydross down, watch your aggro, kill him, and collect some loot.
Mage Loots:
Both are nice to get if you are in need of an upgrade. The Off-Hand has good stats, spell damage and spell crit. Grab it if you have a nice Main-Hand to go with it. If the robes aren't much of an upgrade to what you have, hold off for the robes from Lady Vashj.
[Image and General Strategy used was taken from Bosskillers.com]
Related Posts:
Comments
louis vuitton said:
Trackbacks
There are no trackbacks