Week 6/10 – Recap
World of Warcraft: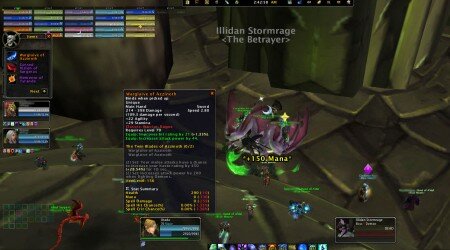 We got an Illidari Council + Illidan Stormrage only Black Temple instance Monday night from a Guild which can clear all the through Mother Shaz, and since they don't raid Monday night, they gave us the rest of the instance (since it resets Tuesday). Thanks to them, we were able to get yet another [Warglaive of Azzinoth] the Main-Hand. Now we have three Rogues and one Warrior with the Main-Hand, but no Off-Hand. Long line for Off-Hands in the Guild, but only Main Tanks left in line for the Main-Hand.
I started Arena-ing with my Warlock friend again. Mage-Lock is a decent setup, but we went like 1-4 because they kept killing my partner first. So I switched over to full PvE gear since they always targeted her first. We ended with the record of 5-5 and called it quits. It was very scary when the actually started attacking me while I'm in my PvE gear, but when they left me alone, I was doing some crazy damage to them.
One week left until Arena Season 4 begins. Start farming those Honor and Arena Points!

Hobbes is a big meanie picking on little gnomes!
Anetheron continues to be a big jerk in Mount Hyjal for Aetherial Circle. Rage Winterchill gets one-shotted no problem, but Anetheron is still kicking names and taking @ss. At least the mod that BRK uses seems to be in working order.

Movies:
I have yet to see The Incredible Hulk yet, but I really want to. I also heard Kung Fu Panda was good, so I might give that I watch sometime next weekend.
There was a live-action Japanese movie that I recently watched called NANA. I thought it was a very good movie. It was based off of a popular Anime series.
Anime:
So after watching the live-action movie and enjoying it, I started watching the NANA anime right after. So far I like it as much as the movie. It is one of those Slice-of-Life animes, and if you are into the genre, you should give this series a try.
Video Game:

"Who's Side are You On?"
Right as I was in the middle of reading the Civil War series by Marvel, I read a rumor that Marvel Alliance 2 will be base off of the Civil War series. How awesome is that!
Real Life:
Hope everyone had a happy Father's Day!
Trackbacks
There are no trackbacks