How to be an Asshat Mage
You can't deny it, every Mage has some douchebaggery in him/her. It comes with the Mage class. Some just have more of it than others. Then there are some of you, just waiting to unleash your inner-asshat. It has either happen already, or will eventually happen. Either way, you might as well do it the right way.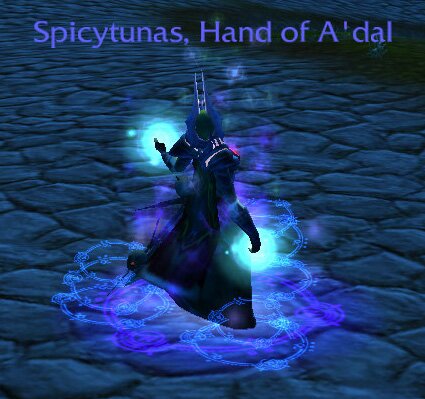 Portal Roulette
The oldest Mage trick in the book. The basic idea is to stack all Mage portals on top of each other so that players will end up taking the wrong portal and get sent to somewhere random. The best time for this is usually at the end of any normal/heroic instance, or raid.
Step 1: Stand Still
After selecting a nice spot to start creating portals, make sure you don't move after casting each portal to ensure that they all stack exactly on top of each other. This step is crucial for any Portal Roulette attempts.
Step 2: Spell Rotations
Make sure you start off with a bad portal, followed by a good one. If you start with a good portal, all the smart players will take it before you finish casting the next one. Each portal takes 10 seconds to cast, and lasts for 1 minute.
Follow each good portal with another bad one. Players have been adapting to Portal Roulette and have been patiently waiting for the first bad portal to disappear before taking the good one. This will make sure that won't happen.
I like to use 6 portals total, 3 good ones (good/better/best), 3 bad ones (bad/badder/worst). I exclude Shattrath since it defeats the purpose (since you can portal to any of the major cities from there).
Here is my Spell Rotation: bad > better > badder > best > better > worst
For Alliance that would be: Darnassus > Stormwind > Exodar > Dalaran > Ironforge > Theramore
If you have a [Direbrew's Remote] or [Atiesh, Greatstaff of the Guardian], tack that at the end for more fun.
Step 3: Leave
Teleport yourself, or play Portal Roulette to leave the instance. If you're not there, the players can't ask you to portal again, and they will be forced to play Portal Roulette, or use their Hearthstone.
Best is when you end up in Theramore from Portal Roulette, along with 3 other players, then proceed to teleport yourself to the city of your choice, while they just watch you leave.
Can I Haz Food/Water Plx?
You're going around Ironforge or whatever city, doing your own thing. You're checking auctions, checking mail, or crafting, then someone suddenly opens trade with you. You stand there for a bit wondering what they want. 10 seconds pass, and you type to them, "?". Their response is a few random words, with the word "food" thrown in there somewhere, followed by some sort of smiley face.
What I normally do in this situation, is to conjure up some rank 1 Food or Water (depending on their class), and send them off on their way. They usually don't realize it until it is too late.
I dunno about you but when random players just open up trade with you and expect something without saying anything pisses me off. Maybe if they just ask before, I would be happy to. Maybe…
Fake AFK
I normally don't have a problem when someone asks for a portal. It's only a few seconds of my time, and I usually get 5 gold or so out of it. Then there are sometimes I just don't feel like it. Maybe I had a bad raid earlier, or whatever. I don't know why, I just don't.
For when that situation arises, I rely on my handy dandy macro:
/afk
/sit
If you just /afk, and you're still standing there, they can tell you're just faking it. You gotta take that extra step to sit at the same time to make it look real.
Extra Asshat points for when they actually see you jumping around Ironforge like 5 seconds before being asked, then suddenly sit down with the /afk tag popping up.
Amplify Magic
I believe this started for me back in Blackwing Lair, during the Firemaw fight, where he has an aura that does fire damage every 5 seconds or so. The Mages would randomly put Amplify Magic on Warlocks, and other players they didn't like, so that they would take extra damage.
Pretty easy to pull off, especially with all the buffs you get nowadays during raids. This would most likely piss off the healers, so use at your own risk.
Wintergrasp Portal
There is a few Asshat Mages a day that does this. They open up a random Mage portal right before the Wintergrasp portal opens, tricking players into taking them, and those players end up missing Wintergrasp as a result.
You've seen it done before, and thought it was funny. You've also been tempted to do it every time too. It's okay, those urges are normal as a Mage. Even I'm guilty of doing this.
Only once though, and it was with a [Direbrew's Remote], and was a way from where the Wintergrasp Portal appears, and it was also 5 minutes before the battle for Wintergrasp started. So to those 8 players who took it that day, sorry, but how do you click that by accident?
Can you run me thru Stockades?
I've never actually done this, but the idea popped up in my head while writing this. It is a total waste of time, but I guess you could do this if you are bored and someone asks you to run them through something.
You run through and gather up all the mobs like normal, while the other player follows behind. Once you get to a point where there is enough mobs on you, pop Mirror Image, Ice Block, then use Invisibility.
The mobs will kill your images, then run after the poor guy following you. You will be out of combat, so find a nice place to come out of Invis, then you can teleport yourself out safely.
Bonus Asshat points if you come out of Invis after the other player dies, and then kill all the mobs right afterwards.
~~~~~~~~~~~~~~~~~~~~~~~~~~~~~~~~~
If you happen to pull off all these Asshat Mage tricks including the last one, then congratulations, you're a bigger Asshat than me!
There is probably more ways to be an Asshat Mage out there, so if I missed any, feel free to add to the list of tricks.

Related Posts:
Comments
Arcsis said:

Dangnabbid said:

megan said:

dorgol said:

janini said:

Serena said:

krizzlybear said:

MadScience said:

Jessica said:

Cassini said:

Rivs said:

taintedmage said:

Nekhbah said:

Adrian said:

Nekhbah said:

Griffin said:

Fizzlum said: