Upcoming Anime – Spring 2008

Winter Season is almost done, and we now look forward to the new anime series which are coming out for the Spring season. There were some good series in the Winter Season that we will be sad to see end, along with some good series that we will be happy to see continue into the Spring Season. Then there are also series that have been going on for years and its good to see that they're still going strong.
Some notable Anime Series of Winter 2008:
CLANNAD
Shigofumi ~Stories of Last Letter ~
Shakugan no Shana II
Persona ~trinity soul~
Spice and Wolf
CODE GEASS: Lelouch of the Rebellion
Dragonaut
True Tears
Zoku Sayonara Zetsubou Sensei
KimiKiss Pure Rouge
Hayate no Gotoku!
The following are some Anime series coming out soon in the Spring 2008 season. There are more that are not listed, and I will update this post as more series are announced. Last Updated: March 22, 2008
All images were taken by myself off the Official websites of each of the respected anime series. Just ask if you want to use them :)
I got the anime schedule from Moonphase(JPN), where I went through and looked at all the new series coming out, and looked up information on each series.
Go Here For Upcoming Summer Season 2008!

Allison and Lillia


Genre: Adventure
Official Website: http://allison-web.net/
Source: AnimeNfo
It is the world that has only one big continent. There, it is divided into two federations and they have continued barren wars.
The story starts when a girl, Allison and a boy, Ville, who have been raised in an asylum, set out on an adventure to find a treasure worth while ending the war.
The story will then revolve around their daughter, Lillia and her boyfriend Treize afterwards.
Blassreiter



Genre: Science Fiction, Mecha
Official Website: http://www.blassreiter.com/
Source: AnimeNfo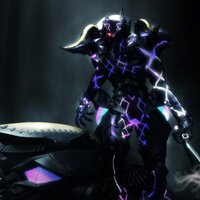 In the near future in a city in Germany, a series of mysterious incidents have occured. Dead bodies are revived and turned into grotesque monsters to assault people. The inhabitants are panicking and says devils have appeared.
In these days, those who can turn into grotesque monsters when they're still alive appear. They are blamed for being devils, but they wield their power with their personality intact.
Some use their power for justice, some are driven by their own power, some use their power to realize their ambitions, and some use them to revenge themselves. However, without their wishes, they are imposed to face severe fate.
It is a royal battle of those who turn to devils with their lives at stake. They use their power to survive and to accomplish their goals. However, while they continue using their power, the power eats into their human minds, and finally…
BUS GAMER



Genre: Action, Drama
Official Website: http://www.fwinc.co.jp/busgamer/
Source: Wikipedia
It follows the story of three young men hired by a mysterious company to participate in a business game, a way for companies to gamble against each other for corporate secrets.
An illegal dog-fight conducted in strict secrecy, the Bus Game is a battle simulation game where gamers are selected by various corporations to compete three-on-three on a battleground which is usually inside Tokyo.
The teams are divided into "HOME" and "AWAY". The "HOME" team is given a disk containing their corporation's secret files to protect while the "AWAY" team attempts to steal the disk.
The "AWAY" team wins if they are able to steal the disk within the given time limit where the "HOME" team wins if they are able to keep their disk safe.
CODE GEASS: Lelouch of the Rebellion R2

Genre: Action, Science Fiction, Mecha
Official Website: http://www.geass.jp/
Source: AnimeNewsNetwork
Sequel to CODE GEASS – Lelouch of the Rebellion
The Empire of Britannia has invaded Japan using giant robot weapons called Knightmare Frames. Japan is now referred to as Area 11, and its people the 11′s. A Britannian who was living in Japan at the time, Lelouch, vowed to his Japanese friend Suzaku that he'd destroy Britannia.
Years later, Lelouch is in high school, but regularly skips out of school to go play chess and gamble on himself. One day, he stumbles on terrorists 11′s who've stolen a military secret and is caught by a member of the Britannian task force sent after them, who is Suzaku. As the rest of the squad arrives, Suzaku is shot for disobeying orders, while the military secret, a young girl, gives Lelouch the power of Geass, which makes anyone obey any order.
While Suzaku is secretly made the pilot of Britannia's brand new prototype Knightmare, Lancelot, Lelouch becomes the masked Zero to lead the rebellion to destroy Britannia once and for all.
CRYSTAL BLAZE

Genre: Action, Drama, Mystery
Official Website: http://anime.biglobe.ne.jp/crystal-blaze/
Source: Fujicreative.co.jp
Also known as Glass Maiden.
In the near future… Lags town is located in the corner of Asia symbolizing a negative side of false prosperity. A hard-boiled buddy story is staged in this town preseting spectacular gun-battles!
Glass Maiden is a stylish and full-blown animation, and props and gadgets are depicted in meticulous detail whole through the story. Having gone 5 years of preparation, this original story is finally about to unfold…
Da Capo II Second Season

Genre: Comedy, Romance, School Life, Harem
Official Website: http://www.hatsunejima.com/top.html
Source: AniDB
Sequel to Da Capo II
The undying Sakura Trees return. Based on a PS2 sequel of the original DaCapo game, the story once again takes place on Hatsunejima, but is set 53 years after the events of D.C. and D.C.S.S.
Although some charas will probably look a bit familiar to the initiated eye, the cast is a new one. The two new main protagonists are the Asakura sisters Yume and Otome, who are the granddaughters of Junichi and Nemu from the first season.
Golgo 13

Genre: Action, Adventure
Official Website: http://www.tv-tokyo.co.jp/anime/golgo/
Source: Wikipedia
Golgo 13 has been called a Japanese counterpart to James Bond, except with a darker character, a much more hardcore attitude towards sex, and a complete lack of morality.
Golgo 13 is described as a mystery man of undetermined origin, possibility being at least part Japanese, who takes any assignment for any employer (it has been said he has worked for the CIA and the KGB) as long as the right price is given (usually around 1 million dollars for a hit) and will always fulfill his contracts, even if he has two or more opposing contracts at the same time.
He is an uncanny sharpshooter, with near 100% accuracy (with only one missed shot) and capable of lethal trick shooting, and regularly uses a customized, scoped M-16 rifle in his assassinations. He also is a heavy smoker of cigars.
Himitsu ~Top Secret~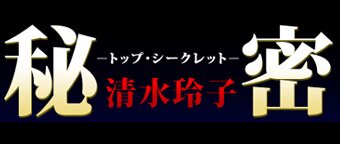 Genre: Action, Drama, Mystery
Official Website: http://www.ntv.co.jp/secret/
Source: ANN
The story takes place five decades from now, when brain scanners have been perfected to the point that the government can retrieve up to five years' worth of memories from people's minds — even if they are dead.
The investigators of the National Research Institute of Police Science's 9th Forensics Laboratory must weigh the ethical choices in the ultimate invasion of privacy as they delve into people's minds to solve crimes.
Itazura na Kiss



Genre: Comedy, Romance, School Life,
Official Website: http://itakiss-anime.jp/index.htm
Source: AniDB
It was love at first sight for Aihara Kotoko as top student Irie Naoki delivers a speech on the first day of high school. After 2 years of secret admiration, "I don`t want it" is the rejection she gets when she plucks up enough courage to hand him a love letter.
Dejected, Kotoko vows to give him up. By a twist of fate, Kotoko`s house collapses; her dad and her put up at a friend`s place, who happens to be Naoki`s father. And thus, life with Naoki begins and Kotoko`s love for Naoki rekindles again.
Much laughter ensues when scatterbrain Kotoko makes her countless advances (supported by Naoki`s wacky mum) on ice-cold Naoki who hates girls and is a genius at practically everything from studies to sports.
Itazura na Kiss tells the love story of Kotoko and Naoki from their days as high school students to their marriage. The story continues after the marriage as they continue to grow as a couple.
Junjou Romantica



Genre: Romance, Comedy, Shounen-Ai
Official Website: http://www.suzukisan.info/
Source: ANN
Misaki is suddenly having some unexpected and odd problems. What started as a need for some college entrance exam tutoring has somehow led him to being romanced by a suave older man who also happens to be his big brother's best friend.
Confused by all of his brand new emotions, Misaki struggles to deal with his suddenly very odd life. And if that wasn't enough, his suitor, Usami, has plenty of issues of his own.
A man-child who decorates his room in giant teddy bears and toys, Usami is a famous novelist who also writes steamy boys' love novels on the side.
When Misaki cracks open one of these books and reads sentences like "Misaki licks every inch of Usami's hot body"…well, let's just say that all hell breaks loose.
Kamen no Maid Guy

Genre: Comedy, School Life, Ecchi
Official Website: http://www.maidguy.com/
Source: AniDB
Fujiwara Naeka is a typical 17 year-old high school student. Or so we thought.
She`s really one of two surviving heirs of a tycoon who has the right to inherit his mass fortune when she turns 18 in half a year.
Fubuki, a young and beautiful maid, and Kogarashi, a big burly maid guy with a mask, have been assigned to keep Naeka and her brother Kousuke safe from those who would plot their demise, and to steal the fortune she would inherit.
Kanokon

Genre: Comedy, Romance, Fantasy, Ecchi
Official Website: http://www.kanokon.com/
Source: Wikipedia
Kanokon's story revolves around Kouta Oyamada, a young first-year high school student who moves from the country to the city and thus transfers to Kunpou High School.
On his first day at his new school, a beautiful second-year female student named Chizuru Minamoto asks him to meet her alone in the music room. When he arrives, she reveals to him that she is in fact a fox deity and from that day on the two hang out together.
Koharu Biyori (OAV)



Genre: Comedy, Science Fiction, Ecchi
Official Website: http://www.koharubiyori.net/
Source: ANN
Set in a near future, a time where robots are common workers for their owners. Takaya Murase has just purchased a maid robot from a robotic doll distriubutor, MaidWorks.
Ready to live a normal cleaning, cooking, and serving life to her owner, Yui is purchased, by Takaya but he has other plans for her…like dressing her up in dress-costumes of his fantasies and more.
Kure-nai

Genre: Action, Adventure, Comedy
Official Website: http://www.samidareso.com/
Source: AniDB
Based on a light novel series by Katayama Kentarou, illustrated by Yamamoto Yamato.
16-year-old Shintaro Kurenai is a Mediator – a specialist in settling squabbles between people. Despite his youth and easygoing nature, he is a man of some skills when it comes to protecting both his clients and his client's interests. And then one day, he is approached by the daughter of a rich and powerful family asking him to be her bodyguard, which somehow ends up with him having a seven-year-old fan, landlord and self-proclaimed fiancé.
Shintaro Kurenai finds himself living in run-down tenement with Murasaki Kuhouin (his new 7-year-old apprentice and landlord) and several other eccentric ladies. His childhood friend (Ginko) acts as his Mediator booking agent. Then there is his (adopted) older sister and martial arts teacher, Yuuno, who does not like to see her Kurenai troubled by any of the difficulties of his Mediator assignments. And Yuuno's younger (7-year-old) sister, Chi-chan (Houdsuki Chidzuru) also seems to take a troubling worry when her 'onii-chan' gets beaten up by Yuuno or his assignments.
Kyo Kara Maoh! Season 3



Genre: Action, Adventure, Comedy
Official Website: http://www.maruma-ova.jp/
Source: ANN
Sequel to Kyo Kara Maoh! Season 1 and 2
Yuri Shibuya was living a pretty normal life. That changed the day he was dunked into a toilet after an attempt to save a classmate from a gang of bullies. Instead of just getting a good soaking, he's pulled in. The next thing he knows, he's in a world that vaguely resembles medieval Europe. If that's not odd enough, he's told that he is to be the next Maoh, just because he has black hair and black eyes.
The Maoh is the King of the Mazoku, who are coexisting not-so-peacefully with the humans in this world. Much to his subjects' dismay, he's totally different from the rulers they're accustomed to. He's kind, considerate, a believer in justice, and not willing to use violence to solve conflicts. Not exactly someone they want running a country on the very brink of war.
Now, Yuri has to deal with trying to become a good Maoh, while at the same time attempting to adapt to this lands' customs and culture, all in a world where the tension between the humans and Mazoku is reaching its peak.
Kyouran Kazoku Nikki

Genre: Comedy, Fantasy
Official Website: http://www.kyouran.jp/
Source: Wikipedia
Thousand years before, Enka, the destroying god, dies with the word that its 'child' will destroy the world.
A Thousands years later, some people(and non-human creature) who have potential of being the children of Enka are found. They participate to the 'Peaceful Family Project', in order to find out who real child of Enka is, and also to teach him or her about the love of family and stop it from destroying the world.
Macross Frontier

Genre: Action, Mecha
Official Website: http://www.macrossf.com/
Source: ANN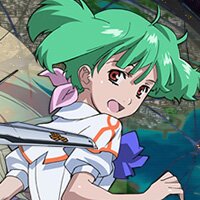 Macross Frontier marks the 25th anniversary of the Macross anime franchise. It is a direct sequel to te first Macross series and Macross 7 and follows the lives of Alto Saotome, Ranka Lee and a pop idol named Sheryl Nome on board the Macross Frontier colonization fleet.
After the war against the Zentradi aliens, Humankind has spread across the universe in order to ensure its survival. The Macross Frontier fleet is part of a effort to spread and maintain the culture of humanity.
Monochrome Factor



Genre: Action, Fantasy
Official Website: http://www.monochro.tv/
Source: AniDB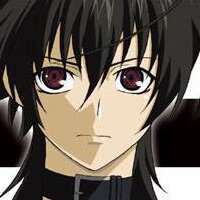 Based on the manga by Sorano Kairi serialised in Comic Blade Avarus.
Akira Nikaido is a typical slacker high school student who thinks he has a normal life – until a mysterious man called Shirogane appears and tells him to meet him at the school that night.
He is skeptical but goes anyway…and gets attacked by a shadow monster! Shirogane convinces him that the balance between the human world and the shadow world has been distorted, and that Akira must become a shin – a creature of the shadow world in order to help restore the balance.
Nabari no Ou

Genre: Action, Drama, Comedy, Supernatural
Official Website: http://www.nabari.tv/
Source: ANN
Also known as Ruler of Nabari.
Rokujou Miharu is a boy who has a hijustu (hidden technique) living inside of him. This hijustu is the power of creation. Many ninja clans are seeking it as the one who posesses it becomes the ruler of the ninja world.
Rokujou's classmate Kouichi started a nindou ("Way of the Ninja") club at school with Kumohira, his English teacher. Both Kouichi and Kumohira are secretly ninjas. They tried to persuade Rokujou to join the ninjustu club.
At first, he was reluctant, but after being attacked by group of ninjas trying to get his hijutsu, he joins. He must become the Ruler of Nabari in order to survive.
Nijuu Menzou Musume


Genre: Action, Mystery
Official Website: http://www.chico-tv.com/
Source: AniDB
Also known as Chiko, Heiress of the Phantom Thief.
The story revolves around a female thief named Chico, who is the spiritual successor to the Kaijin Nijuu-Mensou (The Fiend with 20 Faces) thief character created by famed suspense and detective novelist Ranpo Edogawa. (Edogawa is a pen name for Tarou Hirai; when written in Japanese family-name-first order, it spells out a Japanese pun for the name of the American suspense and detective author "Edgar Allen Poe").
Penguin Musume Heart

Genre: Comedy
Official Website: http://pen-musu.jp/
Source: AniDB
Based on Takahashi Tetsuya`s manga series. Will be broadcast over the web at nico nico douga (http://nicovideo.jp).
Petit Eva ~Evangelion@School~ (OAV)



Genre: Comedy, Parody
Official Website: http://www.evangelion.co.jp/petit_eva/
Source: ANN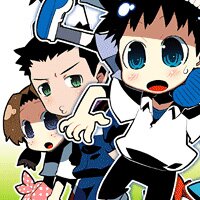 OAV status not currently definite, the official announcement will be made in the September issue (on sale August 10) of Newtype magazine in Japan.
Saint Seiya: The Haydes Chapter – Elysion (OAV)



Genre: Action, Adventure, Fantasy
Offical Website: http://www.toei-anim.co.jp/sp/seiya/
Source: AniDB
Sequel to the Saint Seiya Series
After the 12 Gold Saints sacrifice their lives to destroy the Wailing Wall, The Bronze Saints enter the deepest realm of the Underworld, Elysion, where they face off aganist Hades`s two most powerful servants: The Twin Gods, Hypnos and Thanatos, before they can reach Hades for the final battle.
Soul Eater

Genre: Comedy, Action, Adventure, Fantasy
Official Website: http://www.souleater.tv/
Source: Wikipedia
Set in the Shinigami technical school for weapon technicians, the series revolves around 3 groups of each a weapon technician and a human weapon. Trying to make the latter a "Death Scythe" and thus fit for use by the Shinigami, they must collect the souls of 99 evil humans and 1 witch.
They are the students of Shinigami Technical School. Each one has a different weapon companion. All students and weapons attend class and are given homework to do. Homework mainly consists of getting a certain soul or maintaining peace in the world.
Each meister tries their best to help their weapon reach death scythe status so they can be used by Shinigami-sama. The meisters have a rating system that goes from one to three stars which usually measures soul energy. It is important that the meister and weapon can tune their "soul frequency" to perform high level attacks and bring out the weapon's full power.
S.A ~Special A~

Genre: Comedy, Romance, Drama, School Life
Official Website: http://special-a.jp/
Source: Wikipedia
Hikari Hanazono has always been second to Kei Takishima. When they were six years old, their pro-wrestling loving fathers introduced them to each other. Assuming that she was the best in wrestling, young Hikari challenged Kei to a wrestling match only to be thoroughly defeated by him.
Ever since that fateful incident, Hikari swore to beat Kei in school grades, a sporting event – anything. To do this, she has enrolled in the same school as Kei since elementary. Now she attends Hakusenkan, an ultra elite school, that costs her carpenter father a lot of money. Hikari and Kei are the top two students in the school, with Kei holding firmly to that number one position. While Hikari considers Kei to be a rival and important friend, she is completely unaware that Kei loves her.
The story primarily focuses on Hikari and her constant attempts to defeat her one and only rival, Kei, and how she finds love in their rivalry.
The Tower of Druaga: the Aegis of Uruk

Genre: Action, Adventure, Fantasy
Official Website: http://www.druaga-anime.com/
Source: ANN
The Summer of "Anu": In a summer once every five years, demons in the mysterious Tower of Druaga lose their powers due to the magic spell cast by a god named "Anu". King Gilgamesh, ruler of the kingdom Uruk, uses the appearance of demons as an excuse to invade the tower and find out the construct's secrets.
As 80 years passed, the Uruk army managed to fight back the demons and built a fortress city and safe haven on the very first floor of Druaga – Metz Kier.
Thus begins the story of a warrior named Gil who, finding companions along the way, embarks on a quest for the fabled Blue Crystal Rod, a powerful artifact rumored to be in the highest floor of Druaga. However, other competitors, including the kingdom of Uruk itself, want the treasure, all for their own reasons.
To LOVE-Ru

Genre: Comedy, Romance, School Life, Ecchi
Official Website: http://www.j-toloveru.com/
Source: Wikipedia
To Love-ru, a double entendre with the word "trouble"
The story is about Rito Yuki, a high-school boy who cannot confess to the girl of his dreams, Haruna Sairenji.
One day when coming home and sulking in the bath-tub a mysterious, nude girl, appears out of nowhere. Her name is Lala and she comes from the planet Deviluke, where she is the heir to the throne. Her father wants her to return to her home planet so she can marry one of the husband candidates, but she decides that she wants to marry Rito in order to stay on Earth.
Commander Zastin has been ordered to bring Lala back and has already battled Rito. He reports to the emperor that Rito would be suited to marry Lala, after hearing Rito say that marriage is impossible unless it is with the person you love (Rito was actually defending himself but Zastin and Lala thought he was defending Lala). With this speech, Lala truly falls in love with Rito and decides that she wants to marry Rito.
Her father decides that, if Rito is able to protect Lala from her fiances, then he can be her fiance, but if Rito cannot protect Lala from her other fiances and meet up to the king's expectations, Lala's father will kill Rito and destroy Earth.
Toshokan Sensou

Genre: Action, Military
Official Website: http://www.toshokan-sensou.com/
Source: AniDB
Also known as Library War.
In the year 2019, the explosion of information and misinformation became a direct threat to society. In a daring decision, it was decided to create a new government agency dedicated solely to information management.
Now some thirty years later, the government still monitors and controls information, suppressing anything they find undesirable, but standing against their abuses of power are the libraries, with their special agents called 'the book soldiers'.
Vampire Knight



Genre: Drama, Romance, Fantasy
Official Website: http://www.vampire-knight.jp/
Source: Wikipedia
Yuki's earliest memory is of a stormy night in winter, when she was attacked by a vampire, she was saved by another vampire, Kaname Kuran.
10 years later, Yuki Cross, the adopted daughter of the headmaster of Cross Academy, has grown up and become a guardian for the school, Cross Academy, with 2 purposes. That is to protect the Day class (humans) from the Night class (vampires)'s fang and protect the true identity of the Night class students from being discovered by the Day class students.
Kaname Kuran, Yuki's saviour, leads the group of night class, with the help of Takuma Ichijo. But also at her side is Zero Kiryu, a childhood friend whose hatred for the vampires that destroyed everything he held dear, is now determined to kill them all and never trust them.
This coexisting arrangement seems all well and good, but the question remains, have the vampires truly renounced their murderous ways, or is there a darker truth behind their actions? Is Kaname's infatuation with Yuki the beginning of a forbidden romance, or is it something in her forgotten past that draws him to her?
Because in this world of secrets, nothing is as it seems. And the price of misplaced trust may even be worse than death.
Wagaya no Oinarisama

Genre: Adventure, Fantasy
Official Website: http://www.mediaworks.co.jp/contents/oinarisama/index.php
Source: Wikipedia
Also known as Our Home's Fox Deity.
Wagaya no Oinari-sama began as a series of light novels written by Jin Shibamura, and drawn by Eizou Houden.
xxxHolic: Kei

Genre: Comedy, Drama, Fantasy, Horror
Official Website: http://www.tbs.co.jp/holic/
Source: Wikipedia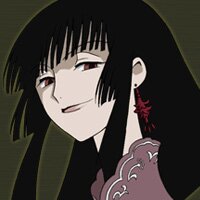 Sequel to xxxHolic.
Kimihiro Watanuki is a high school student plagued by youkai, supernatural beings magically attracted to him. The creatures are invisible to others, and as a result he feels extremely burdened by them. When he quite literally stumbles into a shop that grants wishes, his life changes drastically.
The shop is owned by Yuuko Ichihara, a mysterious, beautiful witch of many names and esoteric renown. The seemingly all-knowing witch offers to grant Watanuki's wish to be rid of his ability to see spirits. However, in exchange, he must pay a price equal to the power required to grant the wish. Yuuko discovers that Watanuki is very skilled with his hands and a hard worker. As a result, Watanuki is forced to perform housework and odd jobs for Yuuko until he has done enough work for his wish to be granted.
Shortly afterwards, other characters become involved with Watanuki's position, including his love interest, Himawari Kunogi, and his "rival," Shizuka Doumeki. The three become increasingly "friendly," despite the number of times Watanuki becomes annoyed by Doumeki's calm demeanor.
My Thoughts
Out of all of them, Soul Eater drew me in the most. The story looks interesting, and the artwork looks really good. Maybe I'm just a sucker for animes with "Shinigami" in them. Also title and artwork of Allison and Lillia caught my eye.
Then of course I will be watching most of the "sequel" animes. If you liked the original, then you'll most likely watch the next season. I'm mostly looking foward to Macross Frontier, and CODE GEASS: R2.
For the Action/Adventure watchers, we have Goglo13 and the Aegis of URUK, which gave me a dot.HACK type kind of vibe.
Also there is the "Love-comedy" genre that I've always enjoyed every season. ItaKiss looks like it will be worth a watch, and so does Special A.
For just comedy or pure craziness, Penguin Musume and Kyouran looks like they will have that covered next season. Also Maid Guy looks very interesting. Petit Eva is also there, but we're not sure if its coming out next season or not.
And last but not least… the "Fanservice" and "Ecchi" Animes. This season we had Rosario + Vampire, which in my opinion had zero plot, and all fanservice. It was pretty bad, though I heard the Manga is ten times better, so I might give that a shot. For next season it looks like we have Kanokon and To LOVE-ru to cover the ecchi-ness.
Comments
Itachigo said:

Yukihime said:

gunblade85 said:

usagijen said:

Tuna (Author) said:

konata-chan said:

Mika-tan said:

krystalk said:

krystalk said: