The Higher the Armor Rating, the Less it Covers
Attempt #2 at leveling an alt. This time, it looks like she may have a very good chance at hitting 70. Maybe.
I've been leveling up a Paladin with my friend, using the Refer-a-Friend promotion. I went full Protection spec, he went full Restoration spec as a Druid, and man, it is A LOT of fun. I'm telling you now, I still don't know much about being a Paladin, and this Refer-a-Friend promotion doesn't help. I level up three times faster, which also means I only spent a third of what normal Paladin players spent learning the class. So I are still n00b.

Even on a PvE server, I have the natural reaction to attack the opposing faction.
I would gather around ten to fifteen mobs, do some line of sighting if some of them are casters, drop Consecration down, and stare at the insane amount of combat text floating around on my screen. Any Paladins have any useful mods they use for combat text? All I see on my screen is Consecration, Blocks, Retribution Aura, Holy Shield, Blessing of Sanctity damage all over my screen. This is on top of the HoTs I am getting from the Druid, and all the damage I am receiving from the group of mobs.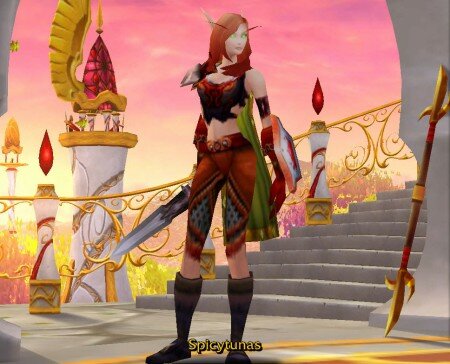 Are you SURE this gear prevents more damage?
I also realized as I get better and better gear, my Paladin has been showing more and more skin. Ooh new pants with + 239 more armor! I am exposed below the kneecaps now. Ooh new chest piece with +324 armor! Now my belly is exposed. Yay new shoulders! It only covers one shoulder though.
Good thing I made a female character. This image could have been disturbing if I had made a Male Blood Elf instead.