My First Alt to 60
Yep I got my Paladin to 60, with a huge help from the Refer-a-Friend promotion. I also leveled from 10 to 60 as a Protection Paladin too! Having a Restoration Druid following me around and leveling too, makes it a whole lot easier though. Her gear is a little low though. How long did it take us? Take a look at this: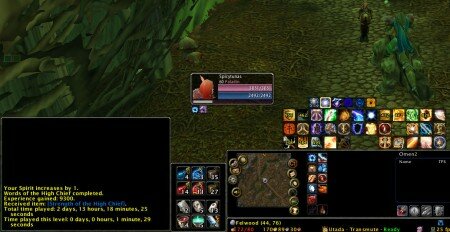 Yes I use the same UI with all my characters.
It took us a little over 2 days and 13 hours of actually game time. Probably a lot less if you take out some time spent /afk in Undercity, or riding around to level up Mining, or scanning the Auction House.
Another perk of the Refer-a-Friend program is the granting of levels. For every two levels the "Preferred" friend gains, that person can grant the "Referrer" friend a level up, to any character at a lower level than the character that leveled up. The only catch is that you must grant the levels before the character hits level 60, or they are lost.
So when we hit level 59, we didn't want to put those free levels to go to waste, so I also made a Mage on that server. I finished up all the beginning area quests and hit level 10. My friend then summoned my Mage to Undercity, and then granted me 29 levels.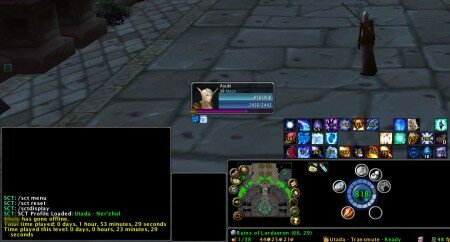 Level 39 with under 2hrs played: Hacks!
So there I was, with a small crowd around me, wondering what just happened, getting accused of hacking. A level 39 Mage, standing there, still in my "White Apprentice Robe of the Mage" and my "Grey Bracers of Cloth", with no money, and no gear. A few kind souls actually traded me some Tailored gear (thanks!) to help me get on my way. I sent myself like a hundred gold, and went on a shopping spree on my new Mage. At least she doesn't look like a bum anymore.