Kimikiss Pure Rouge
 
Genre: Romance, Drama, School Life, Slice of Life
Number of Episodes: 24
Official Website: http://www.kimikiss-pure-rouge.jp/
Source: Wikipedia, ANN
Synopsis: Kouichi Sanada and Kazuki Aihara's childhood friend Mao Mizusawa has returned after living in France for a couple of years. Kouichi is surprised to learn that, since her parents are remaining overseas for the time being, his mother has agreed to let Mao stay with them. The three friends help each other deal with the ups and downs of high school romance.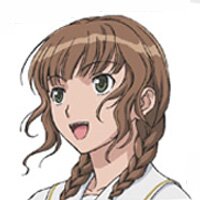 Information: KimiKiss started originally as a dating simulation game for the PS2. Released by Enterbrain in 2006, KimiKiss become a media franchise, including manga, light novel, and be made into an anime in 2007. The anime, entitled Kimikiss ~ pure rouge, began airing in Japan on October 6, 2007.
The series is produced by J.C. Staff and directed by Kenichi Kasai, whose directorial accomplishments include Nodame Cantabile and Honey and Clover. The series will focus more on the girls and their daily lives and the genre will be romance.
Opening Theme: