Soul Eater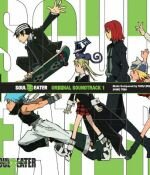 September 6, 2008
The long awaited, highly anticipated Soundtrack for Soul Eater has been released. Probably twenty-five percent of my emails and one of the top three search terms for my site is about the Soul Eater OST (mostly Black Star's track), and it is now finally here.
Track Listing:
DEATHCITY
soul-eater (so scandalous)
PSYCHEDELIC SOULJAM
4242564
malleus maleficarum
victor
lady of gorgon
mifune
BLACK STAR (never lose [...]
Soul Eater: Original Soundtrack 1
Battle on the Ghost Ship! ~A Hell Inside my Head?~
Episode 16 continues where the last episode left off, Death the Kid vs Chrona and Ragnarok!
The Soul Devouring Black Dragon ~Cowardly Liz and Her Pleasant Companions?~
Episode 15, Death the Kid, along with Liz and Patty, travel to a village which had been attacked by a mysterious monster.
Super Written Exam ~Heart Pounding, Nervous, No Way?~
Episode 14, the Soul Eater gang face their toughest challenge yet. The Super Written Exam given by Dr. Stein.
More in this category: