A Random Dungeon Finder Solution
There is no denying it, The Dungeon Finder tool has been a great way to find people to run dungeons with. It is a great way to farm [Emblem of Triumph] and get geared in a relatively short period of time. Great for making gold too! Perfect for casual players, and players still leveling up.
For players who have been 80 for awhile now, and are now enjoying the new dungeons and raids, will still have a reason to use the Random Dungeon Finder tool. Once a day, you can get 2 x [Emblem of Frost] from completing a Random Dungeon.
It is also a perfect chance for you to attempt some of those Heroic Dungeon Achievements you haven't gotten around to getting yet. I know I just got the achievement for piloting the three different drakes in The Oculus. Funny how before this patch was released, I've only done that dungeon ONCE!
Ohh… I know why, I hate this place! Even with the recent nerf to this place, I still hate it. To make matters worst, this instance has popped up so many times, that I've stopped using the Random Dungeon tool after I've gotten my two Frost Emblems. In fact, I think I'm starting to hate The Nexus and The Old Kingdom too!
The increase amount of these instance groups are most likely due to players specifically queuing to get their Red and Green Winter Hats for the Winter Veil achievement. Damn you Winter Veil!!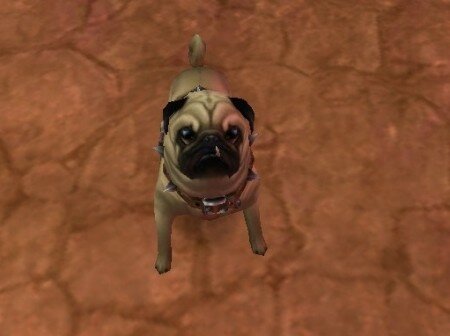 I know I could just pick the specific Heroics I want to run, but really, I'm only in it for the 20g from doing it the Random way. The two extra emblems are just a little bonus. Plus I was getting my title and pet pug. He's pretty damn cute!
So anyways, I was playing Warcraft III: The Frozen Throne recently. Playing a few one on one ladder matches, or doing a few 2v2s with my cousin when I realized that Blizzard should implement this random map selection system, to the random dungeon system too.
In WCIII, you are given 5 "thumbs down" you can use on some maps you don't like. So out of around twenty maps, you pick 5 that you don't like, your opponent selects 5 that he/she doesn't like, and the system selects a mutual map for you to play on.
For the Random Dungeon Finder, Blizzard should give us maybe 2 "thumbs down" we can use (heck I'll even take just 1) to pick dungeons that we do not want to run. Yes, I know this is "Random Dungeon" Finder, and not "Dungeons I Only Like" Finder, but it is only to eliminate one or two that I just dread going to.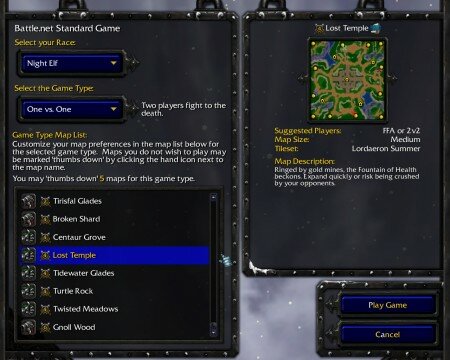 For too many times already, I've been queued into The Oculus, ported in, only to find that the Tank, Healer, and a DPS has left the group. I then get auto queue for the instance again, and 3 new players pop in, only to also leave the group. Then I wait for the same thing to happen again and again.
Then it is just me and one other guy. That guy be queued in here to get the stupid hat, and I'm refusing to leave because I don't want to have to wait 15 minutes before being able to queue again.
Don't lie, you guys have had similar situations. This was just a random solution that popped in my head while playing WCIII, but I hope Blizzard does add something like this. Maybe set it up so that if so many players have left your group, you are given the option to opt out of the instance without suffering the 15 minute penalty. I don't know… I'm just ranting.
Blah, I hate Oculus!
Comments
Gnomeaggedon said:

Tuna (Author) said:

Gribbs said:

Tebla said:

Royberto said:

Justin said:

Ringo Flinthammer said:

Vordan said:

Vordan said:

Gnomeaggedon said:

Jay said: