Guide to Frost PvE: Talents
With the release of the latest Patch 3.3 – Fall of the Lich King, many Mages are going the trying out the new changes to Frost PvE. Permanent Water Elemental and using Deep Freeze on bosses were reason enough to give Frost a shot again in a raiding environment. Is it enough to hang with Fire and Arcane yet? We'll see.
This guide will cover the essential Talents of going the way of the Frost Mage. If you missed what the new changes are to the Frost Talents, you can catch up on them here:
Frost Talents
The "Cookie Cutter" Frost PvE Spec is: 17(+1)/0/51(+2) with variations depending on how the Mage likes to play. There are essential talents, and there are option talents- depending on your flavor.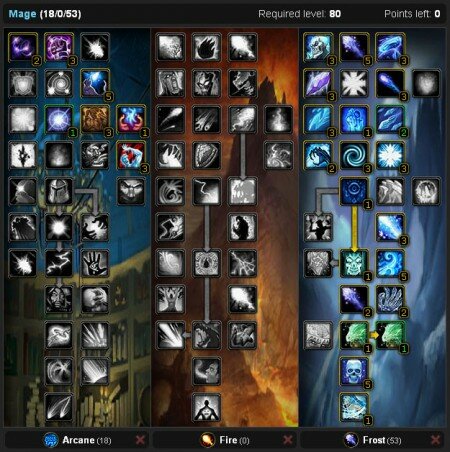 Essential Arcane:
Arcane Subtlety and Arcane Focus are pretty useless for a Frost Mage, but is a tad bit more useful than Arcane Stability. You have to spend the points somewhere, might as well make your Polymorph a bit better.
Who knows, you might have to do some up-close and personal AoEing with Arcane Explosions in the new dungeons and raids.
Optional Arcane:
You will need to invest one talent point into one of these three talents in order to gain access to the Tier 4 Talents to pick up Torment the Weak- the most important talent in the Arcane Tree. That will differ depending on the person and situation.
Fighting a lot off bosses which requires some resistance? Get Magic Absorption. Do you need the extra range for Sheeping? Get Magic Attunement. Do you like to throw in the occasional Cone of Cold or Ice Lance when you PvE? Get Spell Impact.
I personally got Spell Impact because I use Ice Lances and Cone of Cold a lot.
Essential Frost:
Why no Brain Freeze? Casting an Instant Fireball is a waste of a GCD, and would be a DPS loss compared to just casting another Frostbolt. Not worth it. Yet. We'll have to wait until our Tier 10 Mage Set come into play. Until then, we're leaving it off our Talent Tree.
Optional Frost:
You will need to spend at least three points into these talents in order to access the Tier 10 Talent for Chilled to the Bone, and Tier 11 Talent Deep Freeze. I would suggest putting at least 2 points into Frostbite, and 1 point into Improved Blizzard. This will make AoEing with Frost exponentially better. See Here for why.
You will have 2 remaining points to do whatever you want. Some players finish up Frostbite, and put the remaining point into Imp Blizz to make it 2/3. Some players put the two points into Frost Warding to have a chance to return Mana whenever absorb damage with Frost and Fire Ward.
Some players do a mixture of both. Again, it will depend on the player and the situations.
Related Posts: