PTR Patch 3.1.0 – Newest Build Give Mages Buffs
The newest PTR Build (9733) gives Mages a passive buff for our Improved Scorch and Winter's Chill talents, as well as buff the new version of Molten Armor. The list of all changes can be found at MMO-Champion as always.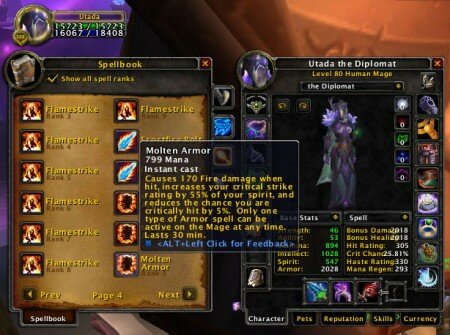 Fire
Frost
Glyph
We pretty much knew we were going to see some sort of passive self-buff to our Imp. Scorch and Winter's Chill talents and here they are. We now also get an increase chance to critically strike by 3% for our main nukes.
So now we only see a 2% decrease to our crit with the change to Imp.Scorch/WC while other casters see a 5% decrease.
As I said before, I was fine with the last Molten Armor change, but I'm not going to complain if Blizzard is going to make it even better. Molten Armor now increases your critical strike rating by 35% (55% with Glyph) of your total Spirit. This is a pretty big buff, and I could see Blizzard making further adjustments in the future.
The Spirit required to "break even" with our current Molten Armor w/ Glyph will be 417.3636 (repeating of course) Spirit.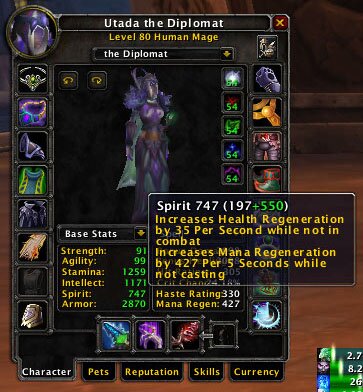 If you go back to my last post and recalculate how much critical strike rating I would gain with just raid buffs, Molten Armor is going to be a big buff. In my current gear, I have 747 Spirit raid buffed. With the new changes, that would give me 8.949% Crit with Molten Armor!
To get 10% crit with Molten Armor, we would need 834.7272 (again repeating) Spirit, which I can see us getting that easily within a few Tiers of gear (with raid buffs of course).
I know I've been harsh against all the Mage QQ lately. I know I'm not the only person that gets mad after reading some of the WoWInsider posts and comments, or even the Mage forums. I was getting sick of it, and apparently so was Vaneras.

Related Posts:
Comments
Dynasor said:

Daniel said:

Tuna (Author) said:

Daniel said:
Trackbacks
There are no trackbacks