Is Dual Spec Worth 1000g?
If you have been on the Public Test Realm lately to test out Patch 3.1.0, or if you have been on the WoW>PTR Forums, then you will most likely have read a lot of player's opinion about the whole Dual Spec feature.
Some players are looking forward to the new feature, some could care less, and some feel that it isn't enough. Some are opposed to the cost, some are fine with it, and some even feel that it should cost even more! Is the Dual Spec feature worth it to you?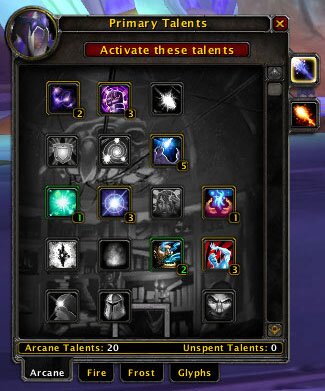 Why Would You Want Dual Spec?
Saves Gold – If you respec multiple times a day or multiple times a week. It might be to assume a role in a Raid, or to change from a PvE to a PvP spec. Dual Spec will be something that will cut down the cost of respecing every week. The cost to respec each time is 50g plus the cost of changing your Glyphs. Let's say it will cost you around 5g per Glyph, it would take you about 15 respecs to reach 1000g.
Convenience – Whenever you have to change specs now, you have to run to your class trainer, clear your current spec, then put in the talent points you need for your new spec. Then you need to run to the Lexicon of Power and swap in your new Glyphs. After all that, you then need to re-bind your keys and macros to accommodate your new spec. 5 to 10 minutes of work, is now cut down to 5 seconds with a push of a button.
Something New – If you only just PvE, or you do mainly PvE with some casual PvP thrown in, then most likely you do both with the same spec. Or maybe the last time you respec'd was when Blizzard gave us all our talent points back with Patch 3.0.2. With the new Dual Spec feature, you now have a reason to try out different specs, and try out other aspects of the game. PvE'ers can try out PvP'ing, and PvP'ers can try out some PvE'ing.
Dual Spec Costs Too Much!
That depends on if you respec a lot or not. Like I stated earlier, it is going to cost you around 65g per respec, which includes the cost of new Glyphs. It'll take you over 15 respecs to justify the cost of getting Dual Spec, and that really isn't much. Some players can can do that in a little over a week of playing. Some players have to respec multiple times in one raid depending on the raid make up. If you respec a lot, then it is worth it, if you don't, then it is not.
If you do 10 or 25 man raids, it is easy for you to make money towards buying Dual Spec. I think I made around 300g for each Naxx raid after repair costs and reagent costs. If raiding isn't your thing, then you can do some Daily quests, and you have plenty to choose from. There are a few Daily quests in each Northrend zone, Profession Dailies, Dungeon Dailies, Wintergrasp Dailies, and Battleground Dailies. You make around 9-15g per quest, and it is a good way to Rep up and make money at the same time.
Optional, Not Required
This is one of the arguments some players make against those who think the cost is too high. Dual Spec, like Artisan Riding, is optional. Sure it is more convenient and saves you time, but you don't NEED to have it, but it is nice to have. The difference is that Artisan Riding costs 5000g, and Dual Spec costs 1000g.
Unlike Expert Riding skill and Cold Weather Flying, Duel Spec isn't required. For Outland and Northrend, there are some places that you HAVE to have the ability to fly to get there. There isn't anything in the game that will require you to have Dual Spec. Expert Riding costs 800g and Cold Weather Flying costs 1000g.
Features that are required, don't cost as much as the features that are optional. Is it worth it? That is up to you.
Is it Worth it for Me?
If I see something I really want, I will put a lot of effort into getting the gold for it. Dailies, I hate doing them, but for Dual Spec, I will do 20+ Dailies everyday til I have enough saved up. Kind of how I went into PvP mode when I wanted to gear up my Mage for Arena.
I personally wouldn't mind if the cost was reduced, but if it stays at 1000g, I will get it anyways. If it is higher, I will still save up for it. It is a feature that I would use a lot, and think it is worth it. Pretty much anyone who plays WoW with me knows how broke I am all the time. I'm usually always under 100g, and if I have gold, I usually spend it on random things.
Right now, if I am in PvE spec, I will stay this spec until I am done with all 10 and 25 man Raids for the week. If this happens early in the week, then I would respec to a PvP spec and PvP/Arena for the rest of the week. If I don't finish raiding til the end of the week, then I usually just skip PvPing for that week and stay PvE spec for the next week.
To me, Dual Spec is worth it. It'll allow me to enjoy both PvE and PvP aspects of the game equally. Have you ever tried PvP'ing as Frostfire spec? It is horrible. Being able to PvE and PvP is reason alone for me to get Dual Spec.

Related Posts: