Not on the Same Quest? Too Bad!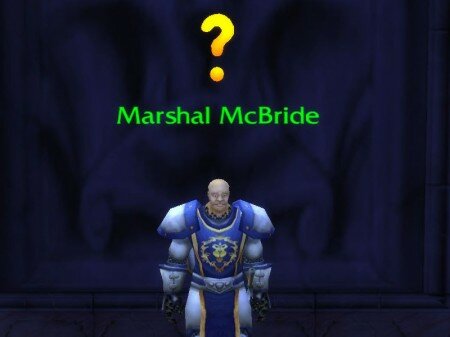 Questing… I hate doing quests, I really do. Sure they are very good for making gold, but unless there is something else like reputation gains or achievements, then I don't bother doing them. On non-Raid nights, players would sign on to do daily quests to make gold. Me, I would sign on, jump around in Ironforge, see if anyone needed to run Heroics, then log off to play Xbox (currently Resident Evil 5).
I'm sure there are a lot of interest quests out there, with very interesting story to it. I feel sorry for the quests writers who put a lot of time and effort into trying to give us some story while we are leveling. Too bad many of us didn't care enough to read it. Many of us have our "Instant Quest Text" turned on, and only look at the objective.
The last time I went "questing" was when I was leveling to 80. I started in Howling Fjord, and did every quests I could find before moving on. Then I went to Borean Tundra, and did every quest there. After that was Grizzly Hills, and then Dragonblight. After finishing the Wrath Gate quests, I dinged 80 shortly after.
I've only experienced half the quests in Northrend and I was already sick of questing. To me, questing was just a way for me to reach max level, and when I reached it, I was done with it.
Okay, I don't hate questing because of the quest mechanics. I don't mind the "Kill x amount of y and come back", or "collect x amount of y from z and bring them back". I'm a Mage, killing stuff is fun and easy. Maybe I hate just questing because of bad experiences. Actually there are two reasons why I hate questing.
Competition for Kills
My first experience of this was when the Burning Crusade expansion was released. Everyone and their mothers were all in Hellfire Peninsula questing, grinding, killing. Not to mention the lag that came with having half the realm in one area. Try collecting boar meat when there are 100 other players collecting the same thing!
When the Wrath of the Lich King expansion came out, Blizzard split the starting area into two locations, and it helped prevent another Hellfire disaster. It doesn't matter if there are 100 players or 5, competing for kills is still going to happen.
I remember doing a quest in Howling Fjord where you need to kill some named NPC. There was a small group of players standing around the corpse of this NPC, waiting for him to respawn. I saw that none of the players were in a group so I invited all four of them into my group. The all joined except the lone Hunter.
Me: Wanna join the group so we all can get credit for the kill?
Hunter: I can solo him easy, I don't need a group!
Me: Yea I know but we can get five people finished with the quest without waiting for him to respawn.
The Hunter just ignores me and begins to do a Volley over and over where the NPC will spawn. "WoW", I thought, "what an asshole…" It so happen that the NPC spawns between Volley ticks, or before he could cast his next Volley, and I was able to tag him with a Fire Blast.
Everyone in the group got credit for the kill, said thanks, and left the group. Then I said to the Hunter, "Hey look a group of Horde, good luck with the Volley!" then left the area.
It doesn't end with just that. In fact it happens daily if you are a Northrend chef! Not only is there a bit of lag and FPS issues in Dalaran, but you have 50 other cooks out there trying to steal your Mushroom, Wild Mushrooms, Wine Glasses, Jug of Wine, and/or Cheese! I am so glad I'm done with all the cooking achievements.
NEED to be on the Same Quest
I am fine with quests which requires the help of other players. 3 and 5 man quests are actually pretty fun to do because they are actually difficult. What I don't like are quests that give you an item that you have to use AND makes it a 3/5 man quest. Not only do you need the help of other players, you need them to be on the same quest as well!
In other 3/5 man quests, anyone can just help you complete it. A higher level guildie, or a friends lower level alt, they can help you finish your quest. Sometimes you may need a tank or a healer, it doesn't matter, you can still find the help and finish your quest.
Now if the quest requires an item to participate in the battle, that is where I don't like it. I remember back in Burning Crusade, in Shadowmoon Valley where you need to kill an elite dragon that flies around. You have to stand on top of a high mountain and shoot the dragon and have the group fight him on the ground. The thing is that you need to wear some sort of goggles to see him!
I was asked to come help for this quest, and when the fight started, I just see them fighting nothing and dying. Sorry I already done this quest, I can't help without the goggles. If I was a healer I could help heal, but I'm DPS with nothing to target. Sucks for them.
Right now I have a 3 man quest in Icecrown where I need to find a cauldron and add a mixture to it every 1 minute or so, while fighting anything that spawns from the cauldron. The problem is that there is a 1.5 minute cooldown on the mixture and it is impossible to solo, even if you can handle all the adds yourself. The only way to get the mixture, is if you have the quest.
So I have this quest in my log, and I can't finish it because pretty much everyone I know already completed it. So I have to wait for a random chance that someone else needs the quest, or wait til one of my friend's alts get high enough to be on that quest.
My Suggestions
I really like the whole phasing idea of some of the quests we have in Wrath. I would like to take that a step further and have an option to maybe phase an entire zone if you choose. It would be only for players who want to quest, and pretty have the whole zone to themselves, minus any other players, mining or herbing nodes. You won't be able to get any world drops either, only quest drops.
Something like that so you don't have to fight for kills, or deal with lag. Like a solo mode or something. I don't know how that would be implemented, but just a suggestion.
As for group quests, instead of forcing you to group, maybe instead give you the option to recruit some NPCs to help you. One quest that comes to mind is the one in Grizzly Hills where you have a Druid NPC that helps you. He asks you if you need him to go in Bear or Tree form, depending on what you need.
Also do away with any quests where you NEED an item to participate in the quest. It sucks when you can't find anyone to help you with it.
Some other articles on Questing I've found interesting:
In the first article, former WoW Director Jeff Kaplan talks about what is wrong with the quests we have today. He was also responsible for the quests in STV where you need to collect the pages! He also thought it was a horrible quest, and calls himself an asshole. Worth the read just for that.
In the second article, all different aspects of questing is talked about for MMOs in general (not just WoW). Lengthy, but worth the read. I would also like to mention that there was a picture of a Princess Leia Slave Outfit Slumber Party somewhere in that article too! Can't miss that now can we?