Achievements are Evil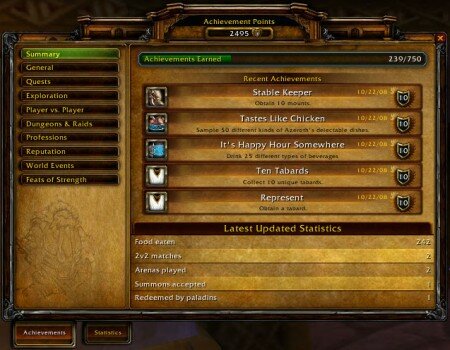 Achievements make you play a lot more than you would normally. They make you do ridiculous things, just so that it says you did it, on a list. They make you waste an enormous amount of time you could have spent being productive elsewhere. Achievements are evil, and it was a smart move on Blizzard's part to add it into the game.
I've had my experience with an Achievement system already with XBoxLive. I played games over and over again trying to unlock achievements. No matter how crappy the game was, I would keep playing it until I could unlock most of the achievements. It really added a lot of replay values to every game.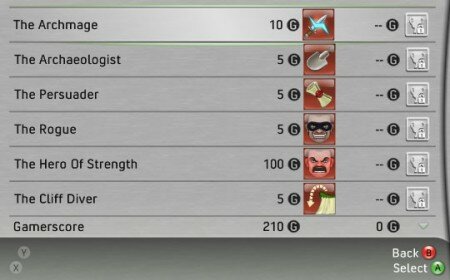 Then it starts getting competitive. You start comparing achievements with your friends and online buddies, and try to unlock every achievements they have, as well as unlocking some that you would thing that they wouldn't be able to unlock. Next thing you know, you're renting all these games from the video store, just for the achievements. Just so that you will have more achievements unlocked than xXsephiroth314Xx and cl0ud4lyfe225.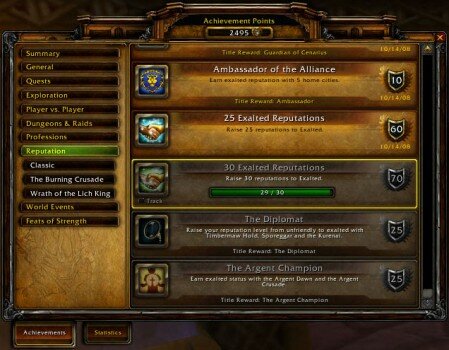 My next project achievement to unlock…
Now with the Achievement system implemented with the last patch, World of Warcraft has taken up even more of my time. Even when there are no reward for the achievements, I still end up doing just to do it. I would sign on, and there would be players looking for groups to do Vanilla WoW raids. Half your guildmates are soloing old dungeons. Every 30 minutes or so, an achievement message pops up announcing that one of your guildies had just caught 1000 fishes, or obtained the Leroy Jenkins title.
Every time I log on now, first thing I do is open up my Achievement window, and plan out which achievement to hit up next. Currently I was in the exploration mood, and probably because it was one of the easiest to complete, but most time consuming. It also coincided with the Hallow's End achievements too, so might as well do them now.
So far I have 2496 Achievement Points, and there are still many more for me to complete. Achievements are evil, and they change the way you play the game. I've fished in an opposing factions city, and died many times. I've killed over 50,000 horde, and now they're making me kill 50,000 more.
Achievements are evil, and I can't stop doing them…

Related Posts: