Obtained 50 Pets and Killed a Death Knight
I got my achievement for obtaining 50 different non-combat pets the other day. This wasn't nearly as bad as I thought, and now that these pets no longer take up my precious bag space, I went and hunted some down.
First off, WarcraftPets will be your bible for this achievement. It is an excellent resource for all things, everything to do with non-combat pets. Read it, loved it, bookmarked it!
For me, I only had to hunt down the remaining 20 or so pets I needed to reach 50. The first thing I did was teleport to each Major City except Ironforge. In Darnassus and Exodar, there was a pet vendor. Darnassus has a Owl Vendor, Exodar has a Moth Vendor. Two to three of each kind. For Stormwind, there is a small little cottage right outside the capital where the Crazy Cat Lady lives. She sold me four different types of cats. For my last few, I went to Stormspire and bought some pets off of Dealer Rashaad. He sells eight different types of pets.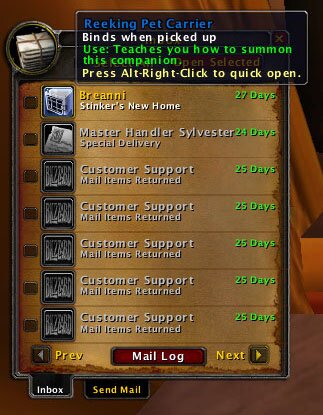 That is a good start for anyone looking to go after the achievement. That is 17 pets out of the way before thinking of going to a neutral Auction House. Plus there is the Parrot vendor at Booty Bay.
After obtaining 50 pets, you will receive a package in the mail. Your very own pet Skunk! He even has an aura of stink surrounding him.
Next order of business: Mr. Death Knight
So there I was at level 71, riding around Howling Fjord, minding my own business when out of nowhere I get Death Gripped and dismounted. It was a level 73 Death Knight trying to gank me. He was probably thinking, "Hehe slow leveling Mage, easy kill". Wrong.
Frost Nova -> Icy Veins/Trinket -> Deep Freeze -> Frostbolt -> Ice Lance x 2
Frostbolt crits for 5.7k, Ice Lance crits for 2.7k, Ice Lance crits for 2.8k. Mr. Death Knight has died. He got off an Icy Touch, and maybe a melee swing in.
I dunno why, but I wasn't satisfied with just killing him once. Probably because he was Death Knight that was higher level than me, so I camped him for the next half an hour until he stopped spawning or logged off. I killed him about seven or eight more times by then.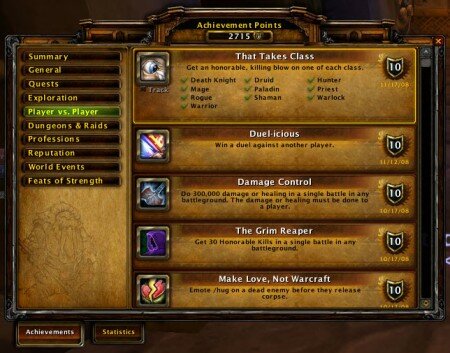 See Mr. Death Knight, you may have out leveled me in over 3 days, but that is all the experience you have, and you won't be that geared as well. I have over 3 years on my Mage. Seeing how you probably spent all your time leveling your Death Knight, you didn't have a "high level main" to log on to prevent me from camping. Seeing you without a Guild tag means you didn't have help on the way either. Trust me, general chat isn't gonna help either. You will either see Chuck Norris jokes, or be told that, "the PvE Server is that way —>".
This is a PvP server, you should have taken this time (usually a week or two when new content is released) where the Horde and Alliance normally ignore each other to prevent any interference to each others questing and leveling. Hope you have learned your lesson. Oh and thanks for the achievement.
Love, Tuna

Related Posts:
Trackbacks
There are no trackbacks