Ghost Hit Gone for Wrath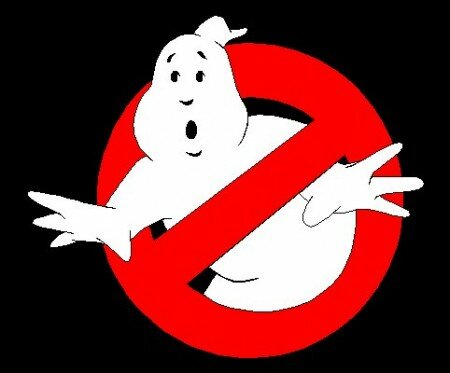 Yep, the advantage that Frost Mages had over Fire Mages in the Spell Hit column will be gone with the release of Wrath of the Lich King or possibly the next patch coming this Tuesday. The Ghost Hit was the extra Spell Hit Frost Mages recieved, which gave them an extra 3% Spell Hit from Elemental Precision. Soon, it will be gone.
I haven't gotten the chance myself to test out the Ghost Hit with a level 80 Mage and a boss level target dummy, but there was someone who did. Credit goes to Tashire of (US) Baelgun for testing it out for the Mage Community. We thank you.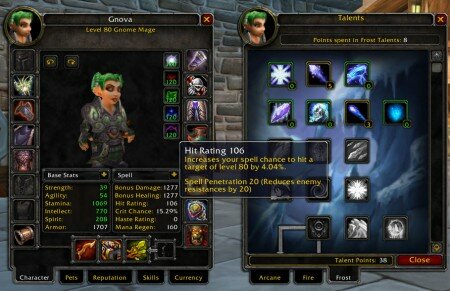 The weapon of choice for this test was a level 80 Gnome named Gnova. She has 106 Spell Hit Rating, which is around 4% Spell Hit in WotLK. Also in WotLK, you can reach 100% Spell Hit, not like current WoW with 99% Spell Hit. So for a boss level target (+3 levels) you will need 17% Spell Hit to reach the cap in WotLK.
So with 4% Spell Hit from gear, and with Elemental Precision, we should see a 7% Resist rate if Ghost Hit still exist, or a 10% Resist rate if the Ghost Hit is gone.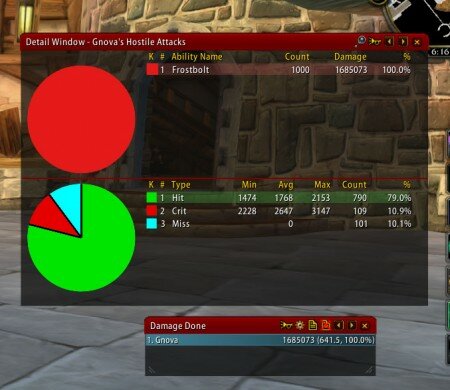 As you can see, Gnova cast 1000 Frostbolts to test out the resist rate, a nice big number of spell casting to work with. Gnova ended up with having a 10% resist rate, which shows us that Frostbolt isn't receiving an extra 3% Spell Hit from Elemental Precision.
It was also stated by the guys at ElitistJerks that the Ghost Hit is gone.

Related Posts:
Trackbacks
There are no trackbacks