WotLK Beta Testing: Focus Magic
Next up is the 11 Point Arcane Talent: Focus Magic. This talent gives the Mage another raid utility, and gives the raid another reason to bring a Mage. I also updated my posts on Mirror Image, Fingers of Frost, and Blizzard.
9/10/2008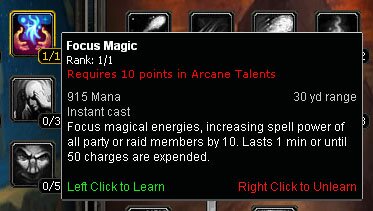 When cast, the Focus Magic buff is applied to EVERY raid member, pet, and minions. For Mages, that will also include Water Elementals, and Mirror Images. Rank 1 gives 50 Spell Power, Rank 2 gives 100 Spell Power, and Rank 3 gives 150 Spell Power.
This makes it extremely useful since Spell Power ALSO affects Healers as well as other DPS Casters. The buff lasts for 1 minute or 50 charges. Is it 50 charges per person or 50 total? I was unable to test that since none of the charges were being used up on Beta, but I still got the Spell Power bonus.
There is no cooldown on the spell, and can be re-applied whenever it wears off. The cost of applying the buff however is pretty high (close to 1k mana), so I see this being used during raids whenever they "need" extra dps (enrage timers, < 20%, etc…).
9/18/2008
Focus Magic has been totally redone, and is no longer a party/raid buff. The description of the spell is a little confusing, and doesn't state any limitations on the spell. It is now a 30 minute buff.
You CAN'T cast this on yourself. You can only cast this on another player. The player you cast it on will get a +3% Spell Critical Strike chance. Whenever THAT player gets a critical strike, YOU get a 10 second buff which grants YOU +3% Spell Critical Strike chance.
You CANNOT cast it on more than one person. The buff will be removed on any previous player when you cast it on a new player.
First player I tested this on was a Death Knight. The party consisted of three Paladins, a Death Knight, and me, so I didn't have much of a choice. Sure enough, every time he crit with a spell, I got the buff. I then tested it on the healing Paladin, and every crit heal he got, I too got the buff.
What I haven't tested yet was casting it on another Mage who also has Focus Magic to cast on me. I would assume that it would work, and each Mage would have a +6% Spell Crit chance whenever the other Mage would crit.
9/24/2008
Does NOT work on Crit Heals if casted on a healer. Thanks to Euripedes for pointing this out.

Related Posts: