Got Honor Points Refunded but… Shh!
Alright, so I farmed the 15300 honor to buy the [Guardian's Band of Subjugation] and ended up buying the wrong Ring. Then I put in a GM ticket, and later the next day, I got an in-game mail saying that they have taken away the [Vindicator's Band of Subjugation] and refunded 12000 Honor and 10 x [Alterac Vally Mark of Honor] for the Ring.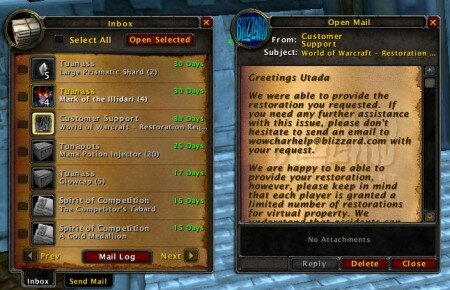 So I took the Honor and Tokens I got back, and CAREFULLY bought the correct Ring. Then I slapped on the Spellpower enchant on it. At that point I realized something. The GM or the specialist made a little mistake…
I noticed that the [Vindicator's Band of Subjugation] was STILL in my inventory. Looks like they forgot to remove the ring after they refunded me the Honor and Marks. So I pretty much got two rings for the price of one!
Now I didn't originally plan on using double haste ring for Arena since I also had the [Vindicator's Band of Dominance], but since I got it, I might as well use it. So right now I am using a new Arena gear setup (more on that some other time), and it has been working out very well for me.

Related Posts:
Comments
Aurdon said:

krizzlybear said:

River said:

shrinkedge said:

Flaime said:

Tuna (Author) said:

shrinkedge said:

magi said:

Qix said:
Trackbacks
There are no trackbacks