Over 2000 DPS on Brutallus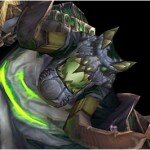 The WoWWebStats (WWS) Report came back from Tuesday night's Sunwell Plateau raid, and I was able to break 2000 DPS on Brutallus. /flex epeen
My previous attempts were around 1700-1800 DPS, so I am glad I was able to increase my DPS with some new gear and some small bit of re-gemming.
Now for Brutallus, in order for a Raid to sucessfully take down the monster, your total Raid DPS must be able to sustain over 27,777 DPS for 6 minutes. With 16 DPSers in the raid, that is an average of 1726 DPS per DPSer.
That number is difficult to achieve (especially sustaining that number for 6 minutes), and Brutallus is a very good "DPS Check" to see if your Guild has enough DPS to survive the rest of the Sunwell Plateau.
So how did I do compared to the Fire Mage and the rest of the Raid DPS? Not too shabby. Me and Squirtle came in 5th overall, one Frostbolt crit away from 3rd place.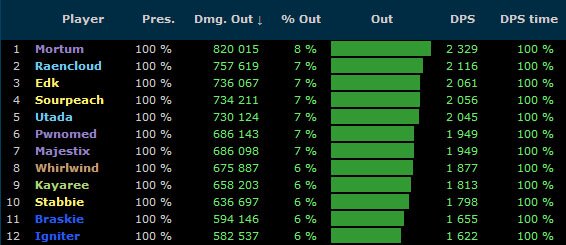 Here is a link to the WWS for the Brutallus fight:

http://wowwebstats.com/ddpnz1dqdyrnu?s=12650-13015
Now I am not going to lie, this is a better fight for a Fire Mage. We save all our Heroism until there is one minute left on the enrage timer, which is also when Brutallus is at about 20% health, and Molten Fury kicks in. In that last minute, a Fire Mage will go berserk on the DPS meters.
So how were we able to keep up with our Fiery Brethren?
First let's look at the group makeup. Fire Mage had a Shadow Priest and Elemental Shaman, while I was in a different group with a Shadow Priest and a Restoration Shaman. So he got Totem of Wrath, and I get Mana Tide Totem. He had to use Evocation, and I didn't.
Next we look at our stats. We both have around the same Spell Damage (1300+) and both are Spell Hit capped. Fire Mage is at 35% spell crit with Fire, and I am at 26% spell crit with Frost. With Raid buffs his crit jumps to ~40% with Totem of Wrath and use of Combustion and Destruction Potions. For me after Raid buffs, my Frostbolt crit % jumps to ~45% with Winter's Chill, Empowered Frostbolt, and the use of Destruction Potions.


49% Frostbot Crit! Too bad Squirtle doesn't share my Spell Hit %
I was able to spam Frostbolts with a very high crit rate without ever getting close to low on mana. That with a bit of timing of all my cooldowns add quite a bit to my DPS. Timing it so I could pop Icy Veins and my Water Elemental three times during the fight. Summoning Squirtle right before our Shamans popped Heroism so that he could get the buff, helped up his DPS a bit, which helps mine.
Hm… this post didn't provide any useful information. I guess I just wanted to brag a bit… but hey, we're allowed one every once in a while right?

Related Posts: