Ugly Sword to go with My Ugly Tunic
I got myself a new weapon for my Mage, which dropped off the new Onyxia raid. It is a very plain looking (but amazing) sword, the [Polished Azuresong Mageblade], and this thing is a beast of a sword.
The original [Azuresong Mageblade] (which I also had at one point) dropped off of Golemagg from Molten Core. The new upgraded version dropped off the new 25-man Onyxia. There is a lesser stat version that drops off the 10-man Onyxia, the [Glinting Azuresong Mageblade].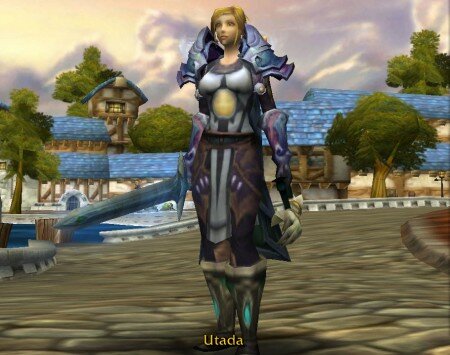 Mage or Paladin?
It still retains the original plain look of the old sword, but has a ton of Spell Damage on it. 621 Spell Power!!! That is more than the entire [Conqueror's Kirin Tor Garb] combined!
I was told that I looked more like a Paladin with my gear, than a Mage. So I put on the [Tabard of Argent Crusade] and took a screenshot.
I'm going to follow the majority of votes and go with the [Tabard of Summer Skies] now. Thanks for voting!
Comments
Gnomeaggedon said:

Adlib said:
Trackbacks
There are no trackbacks