A Look Back: Games Within WoW
There has been a lot of buzz lately with the announcement of being able to play Bejeweled in the World of Warcraft. Adding a very addictive puzzle game to an already addicting MMORPG sounds like a plan to destroy human lives.
I am most likely going to be one of many players to download this addon and play Bejeweled. It is an awesome game, I play it many times still on my Xbox360. It will make somethings in WoW go by much smoother and less painful. For example:
Fishing
Waiting for Raid to start
Flying on a Flight Path
Waiting for players to zone into the instance
There are still many players concerned about having a game within the game though. First of all, players will be spending (and wasting) even more time on WoW. You will find some players who will just be logging onto WoW just to chat and play Bejeweled. You will be worried about players not paying attention during raids because they may be distracted by this addon.
The fact is, these "mini-games" have been around before (and maybe still around). I remember having quite a few of them myself. I had Tic-Tac-Toe, Chess, Checkers, Tetris-type game, Bejeweled-type game, and even Poker. You could even play some of these games with other players with the same mod! I played these games for the reasons I've listed earlier, and yes, I've been guilty of trying to pass time during raids. It's ok though, it was during the good old days of "Molten Bore".
My favorite game was ANZAC Poker, which was made by one of the players in the ANZAC Guild on my server. You could create or join games, and even invite players to join your game. I believe it was up to six players and it was Texas Hold 'em Style.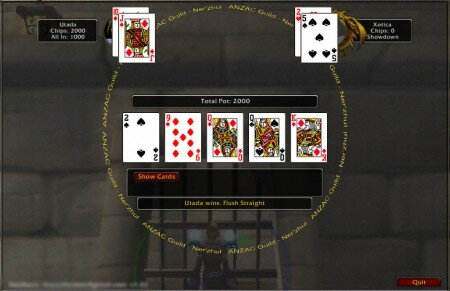 Here is a random screenshot I found!
If you look closely, you can see me with my [Netherwind Mantle], and my [Freezing Lich Robes]! Man I loved that robe!
This was played by me and my friends during Molten Core raids pretty much every raid. We didn't do this on "serious" raids though, only on raids which have been on farm content for months. Back then with 40 players in the raid, you really could afford to have 10-15 (or more) players half-assing it and still get the job done.
I think the addition of Bejeweled and other games will be great to have, as long as the player knows when it is appropriate to play it.

Related Posts:
Trackbacks
There are no trackbacks