A Look Back: Repair Bills
Going through my folder of old screenshots, I found an old screenshot of me repairing my gear in Molten Core. I remember taking the screenshot because, "OMG look how high my repair bill is!". Looking at it now, I wish my repair bills were that low!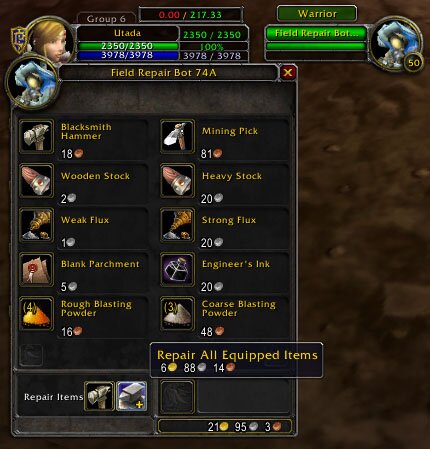 Where does all the gold the repair bot collect go to?!
In the screenshot, my Mage was most likely in a mix of Tier 1 and Tier 2 gear. The repair bill was a little under 7g, but judging by how much total gold I have (22g), that was quite a bit back then.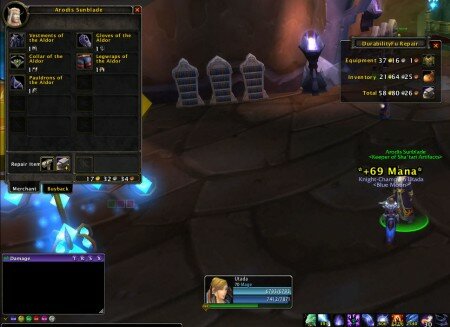 I actually really liked how the Mage Tier 4 looked!
Then I found a more current screenshot of a high repair bill in The Burning Crusade. Judging by the picture, it looked like a long night of wipes of Archimonde. I can see [Tears of the Goddess] and Slow Fall hot-keyed on my spell bar. In the screenshot, I am wearing mostly Tier 4 and no Tier 5 (I skipped straight to Tier 6). My main PvE gear repair was 37g, and my PvP gear repair was 21g.
Why was my PvP gear broken too? Archimonde is a huge pain in the ass, and surviving is more important than DPSing. I think our first kill I was in full PvP gear. More on Archimonde at a later time.
I also noticed that I had more gold back in Molten Core than I did while doing Mount Hyjal! One of the big downfalls of raiding for epics. You farm gold on non-raiding days to spend on raiding days.
Looking at these screenshots makes me wonder how much repairs will be in Wrath of the Lich King. I know that gold is getting easier and easier to obtain, but I still cringe at the fact that there will most likely be 100g+ repair bills in the future.
Comments
Trackbacks
There are no trackbacks