We are the Champions!!!
The Philadelphia Phillies have won the World Series!! It has been 28 years now since the last pennant, in 1980. I wasn't born yet, so this would be my first experience of a championship win in hometown. I've been through many heartbreak, seeing my Philadelphia teams make it to many playoffs and championship games, and losing. For 27 years I have waited. Finally, a Championship!
The Wednesday night that the Phillies won, it was crazy all over Philadelphia. The streets were all filled with hundreds of thousands of people. All out and celebrating. As a Philly fan, we have a bad rep of being rowdy and destructive. So I was proud to see no vandalism or looting happening anywhere in the city. Just drunken cheering, and fireworks.
The Phillies Parade was scheduled for Friday afternoon, on Halloween day. It started at 12pm and lasted about 5 hours. Starting on 15th and Market Street, the parade slowly made its way around City Hall onto Broad Street, then made its way to ballpark.
Holy crap was it crowded! It was estimated to have over 2 million in attendance over the 4 mile stretch from beginning to end. Even the Philadelphia Eagles opened up their stadium to be able to hold more people (since the two stadiums are next to each other).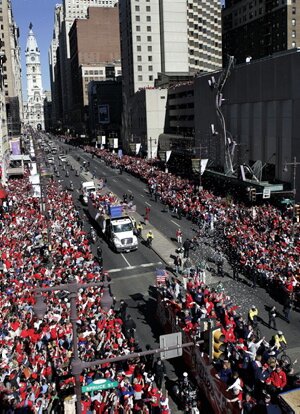 This week has been one of the best weeks of my life. From my Birthday, to the Phillies winning Game 3, winning the World Series, then finally the parade in Philadelphia, it was a lot of fun. It is also the reason why I haven't wrote anything lately.
My head hurts, my voice is gone, I'm dehydrated, and will mostly be sick from being out in the cold. But I feel great! I am no longer without a memory of my own.
Trackbacks
There are no trackbacks