So I had a crazy idea to start farming for probably the most sought after mount in World of Warcraft. Well… the most sought after land mount. The Phoenix mount would be the most sought after flying mount.
I am talking about Baron Rivendare's Deathcharger. The [Deathcharger's Reins] has a drop rate of less than .01% and there has been three total drops on my server so far.
So far I have been only farming Baron for about two weeks, about once or twice a day. My current record is 0 – 15 and the losing record will continue to rise as time goes on. Am I crazy for doing this? Sure I am, but it will all be worth it when I finally get one.
Plus it gives me something to do when there isn't anything I need to in the game. Instead of just wandering around in Ironforge and jumping or chatting (I know a lot of you do it too), I can try my chance at the mount and still chat with my friends at the same time. And you can make a decent amount of gold off the enchanting dusts and shards you get from the run.
I even got some of my Mage friends trying to farm for this mount too. I tried explaining the path that I take it gets a bit confusing when read explanations without seeing any sort of visual aid. So I made a recording of one of my runs through the instance. The time it took me to complete it was a little over 26 minutes. I would be faster had I not accidentally pull some mobs… twice.
So here is a video of my run:
Here is a detailed description of the path I took and some addition information which you might need to successfully kill Baron: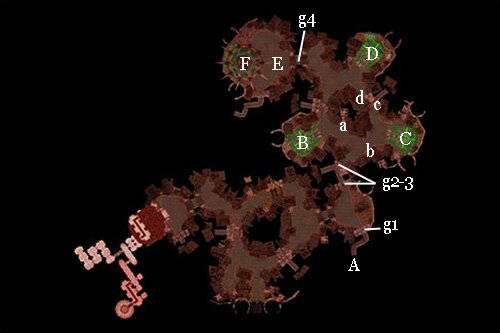 Map of Stratholme
Point A: This is the entrance of the instance. You need to enter from the back door to the Undead side of Stratholme. You will need the [Key to the City] to unlock the gate to enter from there.
Point g1: The first gate you come to in the instance. Once you open this gate, you can simply walk to the left and around all the mobs and avoid any combat until you reach Point g2 and the second gate.
Point g3: The third gate is located right after the second gate, and from there you can use Invisibility to run all the way to the steps of the first boss. Be careful when walking by Ghouls, they can detect Invisible. Also keep an eye out for the Eye of Naxxramas, they too can detect Invisible.
Point B: Nerub'enkan

Nerub'enkan will probably the boss which will give you the most difficult in the entire run. He does all physical damage, and hits multiple times in each attack. He also spawns many spiders to attack.
Summon your Water Elemental and pop Icy Veins. Let your pet attack first to give you a couple of free hits in the beginning before he turns his attention onto you.
Keep Ice Barrier up as much as you can and be prepared to pop a potion if your health gets too low. You may even Ice Block to make him turn his attention back onto your pet so you can pop out and get one or two uninterrupted Frostbolts off. Use Cone of Cold to kill any spiders he spawn.
After he dies, run inside a AoE down the mobs. They should go down really quick. Collect your loot and rest up. Watch out for patrolling mobs and Blink on over to Point a.
Point a: From here you have two choices: Wait for Invisibility to be back up and use it to run all the way over to Point b (the safe way). Or you can be a rockstar and Frogger your way back to Point g2 and then to Point b (the hard way).
Point b: Wait here and time your Blink for when all the Gargoyles have patrolled away, and the Banshee has left you an open lane. Blink to the steps and face the second boss.
Point C: Baroness Anastari

She is really easy to kill. She attacks with Shadow Damage which will mostly be resisted at level 70. If you use your Water Elemental, she will die quicker, but she will use Mind Control on you, which you can easily Ice Block out of. If you don't use your pet, she won't use Mind control. She also has a Silence which can also be resisted.
After she goes down, run in and AoE the mobs again, loot and rest up. Wait for mobs to patrol away and Blink your way to Point c.
Point c: At this safe spot, you need to wait til the Gargoyles to patrol away and then pull the two Ghouls at Point d. Once they are dead, make your way to Point d.
Point d: The reason you cleared this area was so that you could use Invisibility without being detected by the two Ghouls that were here earlier. Invis your way to the stairs and be prepared since you will pop up in the middle of a group of casters. Simply AoE them down without getting too close to the third boss.
Point D: Maleki the Pallid
This boss is a joke for us. He attacks with Frostbolts which can be resisted or easily avoided with Ice Barrier and Frost Ward. If you use your Water Elemental, he will CC you with an ability called Ice Tomb which will stun you for a period of time. He will then fight your Water Elemental one on one using Frostbolts. We all know who will win that fight since Squirtle is immune to all Frost Damage. After he realizes how noob he is and dies, make your way and AoE the mobs inside again.
Rebuff and eat up. Remake your mana gems if needed and wait for the cooldown of Invisibility to be up. Once it is back up, Invis your way to Point g4.
Point g4: Once you get to this set of gates, Ice Barrier up and pull one of the Abominations. This will trigger one of the gates to close on you, locking you in the Slaughter House. The Abominations can be taken down easily, and can be slowed and nova'd. Some spawn Slimes when they die, AoE them down. Clear out the Abominations one by one making yourself room outside the gates.
Make sure you rest up before killing the last Abomination because once he dies, the fourth boss comes out.
Point E: Ramstein the Gorger

Not as tough as the spider boss since you have a lot more space to work with. He can't be slowed or nova'd so try to distance yourself from your pet to bounce agro to your pet with Ice Block, giving you good room to nuke him from a distance.
Once he dies, a swarm of skeletons comes running at you. They have very low health and can be easily AoE'd down. Once they are all dead, you are given a few seconds to rest up.
After your short rest, a group of five Elite Skeletons comes out the door. They have a lot more health than the other skeletons, but can still be easily AoE'd down. They can be slowed and nova'd so use Frost Nova to give yourself some room if needed. Once they go down, you can make your way down to the final boss.
Point F: Baron Rivendare

There he is just chilling there on his steed. When you are ready, Ice Barrier up, and Mana Shield up. Pop your trinket, Icy Veins and Summon Water Elemental. Start nuking as much as possible.
He attacks with Shadowbolts and melees with his sword. He will occasionally summon skeletons in an attempt to heal himself.
AoE the skeletons down before he gets healed and continue DPSing him down. Keep Ice Barrier up as best as you can, and use Ice Block to bounce aggro to your pet if you need extra breathing room.
Once you kill him, say your prayers and loot his body. If you are super lucky you will see a mount waiting for you, if not, do another Baron run.
Yea my current total is 0 – 15. How is your luck?
---